Last week the world lost a comedy icon in Joan Rivers. Whether you loved her or loathed her you can't help but respect the ground breaking work she did for women in comedy. In looking back over her career and all her "best lines", we found 3 that we think apply just as well in remodeling as they do in comedy. Here they are, in no particular order: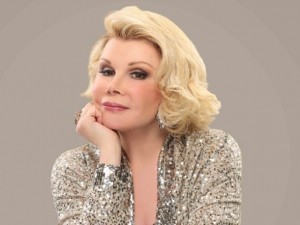 Can we talk...about remodeling?
Joan said: I succeeded by saying what everyone else was thinking.
Remodeling Translation: Tell us what you are thinking! A great kitchen design always comes from a client who not only shares their own ideas but who isn't afraid to tell us when they don't like something. The design process is collaborative and no one's input matters more than yours.
Joan said: I enjoy life when things are happening. I don't care if it's good or bath things. That means you're alive.
Remodeling Translation: Things happen, especially during kitchen or bathroom remodeling projects. The degree to which often varies, but the reality is that it is part of life. You shouldn't have to ignore and you should expect a plan for them to be resolved, but how we handle these things, be them the good, the bad will reflects how much we are enjoying life and how much we will allow ourselves to enjoy our completed project.
Joan said: I'm no cook. When I want lemon on chicken, I spray it with Pledge.
Remodeling Translation: Do your research! Beside that fact that there are countless ways you can prepare lemon chicken (without Pledge!), never has there been a time when more information has been available to you to consider all the options when it comes to a remodeling project. Whether it is Houzz, Pinterest or another resource you prefer, never have we been able to learn and do more research on remodeling or any topic that interests us.
Joan Rivers once said "Life is very tough. If you don't laugh, it's tough." Thanks for all the laughter you gave us Joan Rivers. And for the reminders you gave us to speak up, enjoy life and…how not to use Pledge.
By Jim Grace