Times and styles are constantly coming and going, but for bathrooms cultured marble vanity tops continue to be a popular and in many cases timeless choice. Companies such as Virginia Marble are constantly working hard to change and keep up with the times.
Why choose a Cultured Marble Vanity Top
Cultured Marble, now sometimes referred to as Engineered Marble, can provide you the best of all worlds when it comes to stylish, high performing vanity top. By combining its durability and affordability with the high end appearance of veining and blended colors found in granite and natural stone, you create a look that rivals even the highest end looking product.
Cultured Marble is made from stone that has been crushed, pressed and then bound together by resins to create an authentic look that rivals any marble or onyx look. Not only is this a more cost effective option, you also benefit from it being easy to clean and maintain, its mold and mildew resistance and the fact that it can customized to almost any size, thickness or shape…with options in bowl styles, edge profiles and finishes to create just the look you want for your bathroom.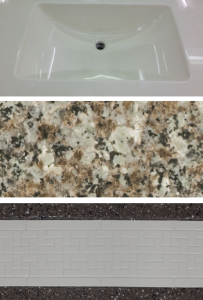 101's of Cultured Marble Vanity tops and 3 myths debunked
I can only get a regular old fashioned recessed oval bowl. False! Cultured Marble Vanity tops offer up a variety of bowl shapes for you to select from, including wave bowls, shell bowls and other bowl configurations.
I can only get a thin thickness if I want to use cultured marble. False! Today's cultured marble vanity tops offer options in thickness, with some cultured marble tops built with up to an 1 ½" edge. Want a a decorative edge of your thicker top? No problem! Cultured Marble Vanity tops over bevel and other decorative edge tops to add more style and substance to the appearance of the top.
I can only get white on white cultured marble like the builder offers. False! Add the look of granite, marble or onyx in your bathroom, without adding the price of those natural stones. Cultured Marble Vanity tops offer more varieties of colors than ever before. You can even choose to do your cultured marble vanity top in one color throughout or do a solid color bowl with a different color deck.
A complete set of choices to create your own Cultured Marble Vanity top
Cultured marble offers a variety of choices to make them a better, more durable option than laminate tops with drop in bowls and a competitive alternative to the cost of granite and engineered stone vanity tops. The result? A broad collection of colors, bowl styles and edges to make cultured marble vanity tops an option to consider for every bathroom.
Be sure to consider all your bathroom countertop options. Give cultured marble vanity tops the proper consideration as a stylish option that will fit into your bathroom and budget. And don't forget cultured marble shower walls! You can find a variety of solid colors as well as colors with inlay strips to give your tub or shower walls a decorative look that is affordable, easy to maintain and fits in seamlessly with the look of your cultured marble vanity tops. With so many options to choose from in cultured marble, your bathroom can be updated without busting your budget. What more could anyone ask for?