Cultured Marble Vanity Tops keep coming back for more
Times and styles change, but for bathrooms cultured marble vanity tops continue to be a popular choice. Companies such as Virginia Marble have worked hard to change and keep up with the times. Cultured marble offers a variety of choices to make them a better option than laminate tops with drop in bowls and a competitive alternative to the cost of granite and engineered stone vanity tops. The result – a broad collection of colors, bowl styles and edges to make cultured marble vanity tops an option to consider for any bathroom.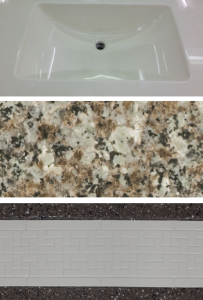 Don't want a regular old-fashioned oval bowl?
Cultured Marble Vanity tops come in a variety of shapes include wave, shell and other bowl configurations.
Want a thicker top with a decorative edge?
No problem! Cultured Marble Vanity tops over bevel edge tops to add more style and substance to the appearance of the top.
Want the look of granite in your bathroom without the price?
Cultured Marble Vanity tops offer more varieties of colors than ever before. You can even choose to do a top in one color throughout or do a solid color bowl with a different color deck.
Be sure to consider all your bathroom countertop options. Give cultured marble vanity tops the proper consideration as a stylish option that will fit into your bathroom and budget. And don't forget cultured marble shower walls! You can find a variety of solid colors as well as colors with inlay strips to give your tub or shower walls a decorative look that is affordable, easy to maintain and fits in seamlessly with the look of your cultured marble vanity tops. With so many options to choose from in cultured marble, your bathroom can be updated without busting your budget. What more could anyone ask for?
By Jim Grace