Many of us "dream" of a newly remodeled kitchen. And if you only get to do it once, you get to experience that near magical, Disneyesque moment where this particular dream comes true. But to help make these kitchen dreams come true, you need people who dream it as well and have a passion to bring that to life for others.
What does that passion look like? For one Reico designer celebrating their 1 year anniversary with us, her kitchen dream is a story that tells it all.
Many people do things in their life for so long that they forget why it matters doing so. Looking back at my childhood, brimmed with love to hate memories of the way I lived, I find obvious to pick the one that made me a designer.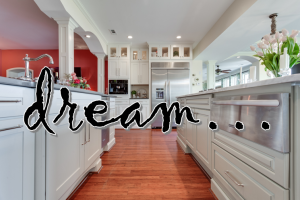 As the daughter of a divorced mother of two, with no child support, living under Brazilian minimum wage which twenty years ago was $26 per month, I was just very fortunate to have a roof over my head. Living in a house with nothing but metal frames and cardboards as windows, doors made out of fabric flaps, my bed a recycled old pink sofa that even with ripped arms embraced me every night to a good night sleep. Curtains made out of black plastic tarp that would whistle with the wind and make a night under the candle light a worthy scene of a horror movie and walls that were like a cranky woman on a bad pms, so sensitive to the touch that it would fall apart in pieces if you did so. Not to mention that the only refrigerator we had was broken and used as a pantry, because that was the only way to keep scorpions, mice and cockroaches away from our food.

Above all these memories, the most memorable of all is that I always had a dream to have my perfect home, and was often caught with paper and pencil in my hands daydreaming and drafting in bony lines the walls of my home and the way I wanted to look. There was no internet or smartphone back, but an excited heart always finds new opportunities. So I would inspire from images from my black and white television and books and magazines from the local school library.

In 1999, there was a natural disaster in my city and we lost everything. Now, we didn't have that roof over our head anymore but we were very thankful for being alive. After shuffling between, churches, friends and family house, and rentals it hit me what I wanted to do, which was "fix peoples broken homes". I decided then to become a designer and put myself through college. At 21 I was working construction, by 23 I had designed and supervised 3 projects of my own, at 24 I bought my first house (a fixer upper of course!) and just before my 26th birthday I bought my second fixer upper with my husband – still an ongoing project – and yes, we still married ? . If we are a reflection of our past, even though my childhood would of point out otherwise, I know I grew up to be entirely dexterous at the art of making people's home a wonderful experience by creating beautiful living spaces that are efficient, functional, and based on how we interact with the environment and not the other way around.

I have never felt sorry for myself for one second in my life, I passed through what I had to, to be the person I am today. The reason I am sharing is so you understand how grateful I am to each and all of you for making this possible to me. Designing a kitchen or a bath is not just putting boxes on the wall, they are someone's dream, hope, expectation, savings and I respect that and I am so happy to be able to help them through this process, specially nowadays that kitchens are so much more than an utility room but it's a gathering place, a place to make memories. Although there is still a lot I need to learn, I am confident that I will be able to get support from each and all of you. Cheers to this one year that has passed by and to other wonderful many years to come…and never give up!!!
At Reico Kitchen & Bath, we love what we do. While everyone's story is different, there is no doubt we are fortunate to have people who care so much and are passionate about what they do. It's a formula that has helped us bring to life the kitchen dream for many for over 60 years.
By Jim Grace