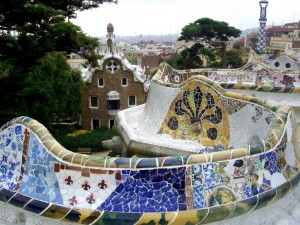 Parc Guell bench or the inspiration for your next kitchen backsplash?
I recently visited Barcelona and immediately fell in love with the charm and architecture of the city (not to mention the tapas, paella, cava, sangria…I could go on and on). Of particular fascination to me were the works of Spanish architect Antonio Gaudi, which can be found all over the city from the in progress Sagrada Familia to La Pedrera, Parc Guell and numerous other buildings, churches and even furniture pieces. From the exteriors of these structures all the way through to the smallest details of the interiors, be it lighting, furniture, ventilation – Gaudi considered and designed it all down to the last detail. He was also ahead of his time when it came to recycling, creating ceramic mosaics made of broken and other waste materials in unique, one-of-a-kind combinations.
It got me to thinking and imagining what a Gaudi designed kitchen or bathroom might look like. I absolutely have to believe that some sort of tile inspired kitchen backsplash, bathroom shower wall or floor in both would be an absolute mainstay. That's the easy part to imagine. But what about the rest of a kitchen or the bathroom? In Gaudi's home you saw many well thought out and designed furniture pieces. What ways would he have designed cabinets to meet the needs of the user? Would it have been something with an angle or curve, an unusual height? In the kitchen, I can close my eyes and see a 42" high wall cabinet that is 9-12" deep at the bottom and angling out so the top portion is 15-18" deep and closer to the user's reach but not so much that I have to bend backwards to access. In the bathroom, maybe it would be an elaborate sitting area with cabinets wrapping around the sitting area to offer all the conveniences one needs from every angle. The only thing I know for sure is that a Gaudi designed kitchen or bathroom would be a modern, functional and highly customized space.
By Jim Grace