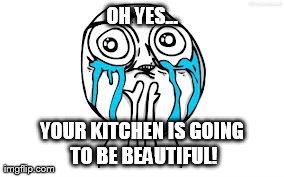 After 40+ years, my parents are starting a kitchen remodeling project.  While there have been some minor updates along the way (cabinet refinishes, appliances, countertop and floor), it was finally time to pull the trigger.  Mom has been the driver of the project but you can see my father start to come around as he sees designs, colors and samples of what the new kitchen will look like.  I've tried to prepare them for that day they walk in and the cabinets and everything is gone in the space, but that feeling can't really be described until you see if for yourself in your own house and space where thousands of meals have been prepared.
With the timing of their kitchen remodeling project, I thought it would be interesting to see how my parents decision compared with the results of the 2014 Houzz & Home Survey.  And to my surprise, the reasons behind my parents kitchen remodeling project and the findings of the Houzz survey were very much in alignment.   Some particularly common ground:
Remodeling trumps Moving – the Houzz survey indicates that homeowners remodeling plan to stay in their home for the long term.  My parents don't have any immediate plans to leave their home after waiting 40 years for a new kitchen!
78% remodel to improve the look and feel of their space – a no brainer here!  The kitchen cabinets were 40 years old! 
54% remodel to make the space more functional – taller wall cabinets, roll out trays in base cabinets and more efficient appliances are just a few examples of how my parents kitchen will become more functional.
47% upgrade features/appliances – all new appliances represent a significant upgrade and a engineered stone countertop replace a ceramic tile top. 
39% cited finding the right products as their top challenge – as much as you think you know your parents, you learn a lot more about them when they decide to do a kitchen remodeling project and get into the details of sinks, faucets, hardware, back splashes, etc. 
76% retain their existing footprint of their home or space – we nailed this one, working in the exact same space that currently exists without any changes. 
80% funded building or remodeling projects with cash or personal savings – and I thought they were saving for my kids college funds!  But then again, it has been 40 years in the nearly the same kitchen. 
The only one that we really weren't close on was homeowners priorities when hiring professional help.  Apparently there is not a category for "son who works for the best kitchen & bath company in the country".  Maybe next time!
By Jim Grace