Designing a new kitchen is overwhelming. Besides it being maybe the only time you might do this in your lifetime (the average for most people is 1-2), the choices to go along with it are overwhelming. Design styles today are more far reaching than ever, from modern and contemporary to transitional, french country, shaker and more. But often times the best kitchen design ideas are the timeless ones, the ones that never feel like they are going out of style and will look just as good in the many years to come as they do new.
To help, here are 4 kitchen design ideas to add these "timeless touches" to your own kitchen:
1. Delight in White! It is hard to go wrong with the color white, and in the kitchen there are so many options and applications to choose from. White cabinets create a clean, timeless look that can accommodate virtually every other color in the kitchen. If the idea of white cabinets is too much, consider other alternatives, such as the classic look of white subway tiles or countertops in Carrera marble. Both can bring the timeless look of white into your kitchen without going too white for the space.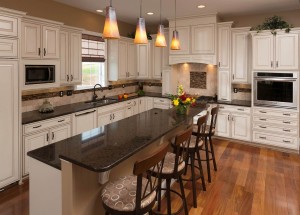 2. Stainless Steel Appliances: Superhero of the Kitchen! Move over Man of Steel, your power is no match for the timeless look of stainless steel appliances in the kitchen. With the right combination of colors, the cool look of stainless steel can warm up a kitchen space without ever going out of style. Its' signature look and feel will always make it a superhero of timeless kitchen design ideas!
3. Hardwood Flooring – why "Wood" you choose anything else? We have a love affair with wood. It's one thing men and women consistently agree on. It's warmth and personality radiates throughout a home, making intimate spaces such as the kitchen the true heart of the home with its' coziness. We also love it because it's tough, it's most always environmentally friendly and it adds character to any space.
4. Universal Design – the "new" timeless! It does not matter if you are young or old, living on your own or in a household with multiple generations. The principles of universal design can benefit the kitchen without ever going out of style. Whether it is handles, touchless faucets, varying countertop heights, raised dishwashers, pull out trays and other cabinet accessories, task lighting or wider clearances in aisles and around islands, incorporating universal design ideas can help make sure your kitchen never goes out of style for you.
A lot of consideration should go into the kitchen design ideas that make the most sense for you and your kitchen. When in doubt…or overwhelmed by the choices, don't hesitate to consider the timeless touches you can add to your kitchen to update it today and keep it in style tomorrow and for years and years (and years and years) to come!
By Jim Grace