When it comes to a kitchen remodeling project, my advice is simple. Consider first things first!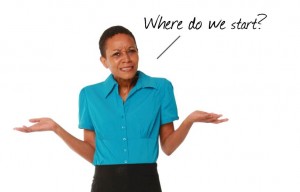 I have worked on kitchen remodeling projects where the planning/decision making process has gone on for years. Seriously...years. And while I cannot make up your mind for you, I can help you prioritize and help make the kitchen remodeling process feel a little bit easier. Here are the first things to consider:
First things First: Walls– Define the boundaries of your space. If the walls are staying where they are you're golden. If walls are moving or you are tearing things down, expanding or making new thruways figure that out first.
First things First: Floor– Once the walls are set the floor is the next item to consider. Is it changing? To what? This will have an effect on cabinet placement and the ceiling height due to the thickness. It will need to go down before the cabinetry is installed so concentrate on this next.
First things First: Cabinets – What are they? Where do they go? What cabinet line do you want to work with? Consider your budget, your design aesthetic and your time line in making this choice.
First things First: Appliances – What's staying? What's going? Will they stay in the same place or move? How big is the fridge and the range? Is there a cooktop and double oven or free standing range? Do you need a chimney hood or something that sits underneath a cabinet? Do you want extras like a warming drawer, wine fridge or trash compactor? The sizes and types of appliances do matter and should be determined at the start of your design and before you order your cabinetry.
Don't get distracted or overwhelmed by things that can wait. Yes, things like your countertop color and deciding between knobs and pulls can be done later. By focusing on first things first you can cut down the time it takes to get to the finished product. Nail down these four items first and you are on your way. Asking for a little guidance never hurts either. That's what I'm here for!
By LindaRose Payne