My parents recently finished their first ever kitchen remodel. This would be a daunting process for any son or daughter to help out with…the more so when you work for a kitchen & bath company like I do.
Theirs followed what some would consider the typical ( or stereotypical?) kitchen remodeling process. A very excited wife (mom) and a somewhat significantly less interested husband (dad).
An extended period of decision-making followed. I got very used to hearing "Hey Jim, your mom is in the showroom." Thankfully I had her set up with a kitchen expert of our own who would guide her through more skillfully than I could, but nonetheless my opinion mattered (where's was Dad?).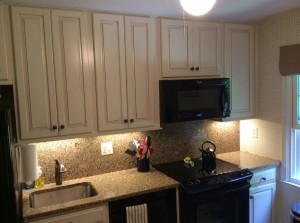 I distinctly remember the decision-making process, which starts out somewhat easier and more visual as you look at cabinet finish samples with countertop samples to endlessly compare to see which color of particulates really brings out the finish of the cabinets and ties in with the floors and new appliances. As what seemed like the bigger decisions were made, then you start to get to the details – hardware, sink, faucet, backsplash, accessories. I don't know if my opinions helped or hurt more. My mom's decision making on the faucet got my attention. Her kitchen expert instincts decisively declared that she would prefer an oil-rubbed bronze finish to a stainless finish, saying that the faucet did not need to match the sink or the rest of the kitchen exactly and that the oil-rubbed bronze finish would look better with the other choices she had made. She was right. The folks at RICKI, the Research Institute for Kitchen and Cooking Intelligence, confirmed that she is not alone, stating that "two in three designers feel that it is not very important to their clients that the faucet finish is exactly the same as the major appliances" (which by the way are black in my parents kitchen).
Of course, like any remodeling project, this one had its "hiccup". A laser templated backsplash to match the countertop came out a little short on height, which meant another week of waiting and without water, which could not be turned back on until the backsplash was in and the faucet could be installed. The backsplash came back fitting like a glove, the faucet was installed and after over 40 years with the same cabinets, the kitchen was brand new! And who loved it the most? Dad, of course! And that is what makes my mom a kitchen expert, even if only in his eyes, because that is what matters most!
By Jim Grace