We use the term dream kitchen or dream bathroom often in the design world. Talking about a first time kitchen or bathroom remodeling project with a client who has waited so long for this often feels like a dream is coming true. And while it is, there are also those times when we are reminded that the word dream means many things to many different people. Often, those are the dreams that no one can imagine. Or wish for anyone. And that service, in every form, matters.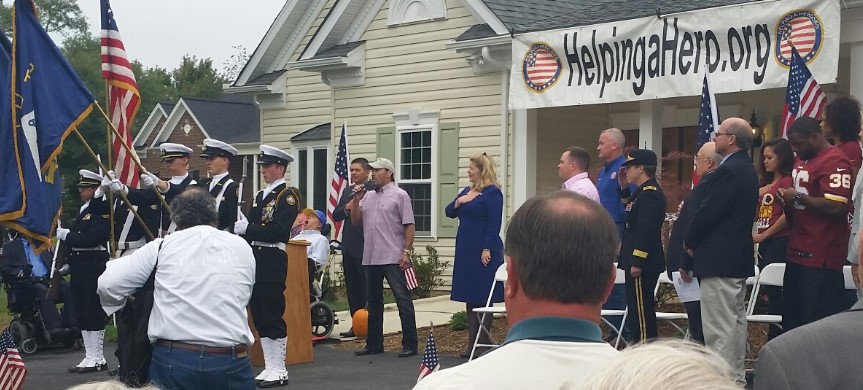 This week, we were reminded of how different a dream can look while still bringing great joy. And that service, in every form, be it in country, customer or life, matters. Reico Kitchen & Bath had the pleasure and honor of attending a house dedication sponsored by Helping a Hero for SPC Jay Briseno. SPC Briseno was injured in Iraq in 2003, his life changed by a single bullet to the back of his neck which severed his spine. In 11 years, Jay has progressed more than doctors ever thought possible but still requires 24 hour care and has a long way to go to make a full recovery.
When Mark Granville, CEO of Classic Concepts, was presented with this opportunity he reached out to Reico Kitchen & Bath to see if we could help. Classic Concept Builders would be leading the home building project under the guidance of HelpingaHero.org, the 2nd largest homebuilding organization for the severely wounded in the nation with over 90 homes awarded to date over 21 states. A 501(c)(3) non-profit, non-partisan organization, its' mission is to provide support for military personnel severely injured in the war on terror.
Thanks to our strong partnerships with Merillat and Whirlpool, a plan started to come together to provide cabinets and appliances. For Reico, our role was just a small part of a much bigger and very important puzzle. We worked with the builder and family to create areas that would make it easier to care for Jay. Besides providing cabinets and appliances for the kitchen and cabinets and marble tops for the bathroom, we also helped with the design of the bathroom. Because of Jay's condition, a bathroom design was needed where his parents could give him a bath and also clean all the items that were needed to keep Jay alive. Separate areas were designed in the bathroom to give dedicated space to bathing as well as cleaning those items.
Said Mark Mosher, Division Leader for Reico Kitchen & Bath, "It was an absolute pleasure to do this project and an honor to give back to someone who has sacrificed so much for his country. Reico is proud to be able to continue to support our wounded warriors."
For more information on HelpingaHero.org, visit their website at www.helpingahero.org.
By Jim Grace