We all look at our bathroom and wish for what we don't have. Whether it is product based (new cabinets, countertops, etc.) or function based (accessibility), we imagine countless ways to improve the space. "Homeowners are coming in with ideas for everything from products to design", says Jen Schatzer, Key Business Manager for Reico Kitchen & Bath in Fredericksburg, VA. "It is exciting to be able to discuss those ideas as a starting point to helping fulfill their needs and wishes for their bathroom remodel."
According to a recent study by Kitchen & Bath Design News, here are the top 5 requests from clients doing a bathroom remodel: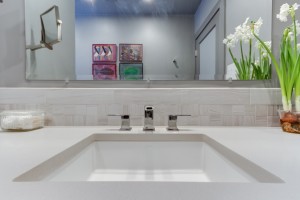 1)84.3% of clients want all new fixtures and fittings – shiny and new is mesmerizing to us all, whether it is a new car, flat screen TV or bathroom. Not sure anything equates to that new car smell though, especially when comparing to a bathroom!
2)53% (tie) want more personalized and unique design/more and better storage – we are fascinated with organization and are always looking for ways to clear up clutter. Sometimes it can be as easy as adding drawers to a standard vanity, but most clients today are looking for more creative and unique solutions that truly customize and make the bathroom theirs. Thankfully with Houzz, Pinterest and other resources there is no shortage of ideas or inspiration!
3)51% want to replace a tub with a larger shower – how many of us loved that big tub the first time we saw it all shiny and new, and then 5 years later realized that it has only been used a small handful of times and was never good as a makeshift pool for the kiddies. Showers today offer more amenities than ever and more of us want to go bigger and better…but with consideration for smart water use as well.
4)48% want improved accessibility – many us are already thinking about how we want to stay in place as we age in our homes. Taking universal design into consideration during a bathroom remodel has as many benefits for us today as it does when we get older. Whether it is as simple as a wider walkway or type of hardware selected or safety based with curbless showers and shower benches, increased accessibility in bathrooms can take on many shapes and forms.
5)44% are concerned about budget and saving money – like any project, when it is all said and done it has to be within budget. This is where the wants intersect with the needs and the real decision-making starts. Staying-in-place may have us willing to expand our budgets in some cases, whereas a shorter term house stay may drive you towards more basic features like adding drawers to a vanity to help increase the resale value of the home. In the end the choice is yours.
Bathrooms continue to offer a good return on investment in the home and remain one of the most popular remodeling projects in the home today. If you are considering a bathroom remodel, now is a good time to think about what you want most so you can start to put together a plan for your new bathroom.
By Jim Grace
This post was created using content from the article "Consumer Buying Preferences Reflect Changing Priorities" by Janice Costa, Kitchen & Bath Design News, October 2013.