According to a recent homeowners study conducted by the Research Institute for Cooking and Kitchen Intelligence (RICKI), more and more consumers are intrigued by the idea of adding current "kitchen" technology to their own kitchen space. What are those top kitchen design trends in technology? Here are your top 5: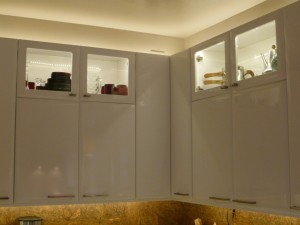 LED lights the way in the kitchen..above, below & inside!
1)LED lighting for the kitchen (47%) – these cool lights are what's hot in kitchen technology today, and not just because they actually do run cool and minimize heat build up. LED lighting's flexible applications allow you to light up spaces like never before without seeing the actual light source.
2)Anti-bacterial surfaces (39%) – certain materials have or are naturally anti-bacterial. Silestone quartz countertops offer a built-in Microban® antimicrobial product, which you can also find in some solid surface products as well. Copper and wood also have some natural anti-bacterial characteristics.
3)Faucet that comes on when tapped (37%) – touch sensitive faucets respond to a gentle tap to turn water on and off without using handles (and just a "touch" more popular than its' motion sensor counterpart).
4)Induction cooking for rapid heating but cool to the touch (36%) – think the old McDonald's McDLT slogan "the hot stays hot and the cool stays cool". You will have to invest in a new set of pans, but the performance (and popularity) of these induction surfaces continue to rise.
5)Touch-less faucet (35%) – sensors detect motion or something in front of it to automatically turn on or turn off. An easy way to fill up a pot when your hands are full or wash your hands after you have been working with raw foods.
These 5 kitchen design trends in technology represent only a small sampling of the growing number of options available to consumers for their own kitchens. How long before the Jetson's kitchen truly becomes the way of present and not merely the dream of the future? Only time will tell, but it sure feels like we are catching up on it.
By Jim Grace