When it comes to finding ideas for kitchen design, inspiration is everywhere. The resources available to us today via the internet, television, home shows and more are staggering regardless of whether you are looking for it or not.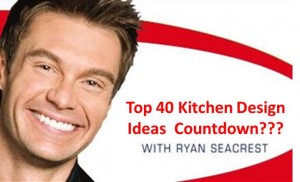 You expect to find it in certain places. Remodeling shows are all over television today sharing the latest (and sometimes fastest) remodeling projects you've ever seen. Same can be said for the internet. Search Google for kitchen design ideas and the options are literally endless. Sometimes the trap there is not to fall for the biggest and brightest names or ideas.
Think of it like a top 40 music countdown. When you listen to it, you are letting the crowd decide what you hear. Would you let a Ryan Seacrest design your kitchen based on what everyone else was telling him were the top 40 design ideas? Of course not! If you focus only on the most popular, the most downloaded, the most well-known or viral, then you are missing out on what may be the best ideas and inspiration for remodeling your kitchen. As Seth Godin once said, "Popular is not the same as important, or often, not the same as good."
Often times, the best part of the kitchen design journey is the unexpected. When you feel like you've looked at everything only to turn your head or walk away for a moment and…that's when you see it. It could come from anywhere. A hotel or resort you visit on a vacation that has breathtaking lobby or unique storage solution in a room. A newly redesigned doctor's office with a modern look and style. A family heirloom or culture that allows a unique piece of their history or heritage to be tied into the kitchen design. It can even come from the clutter found in the day to day as you try to come up with unique or effective ways to store and organize things or even show important or valuable possessions.
Great design ideas exist everywhere, whether you are trying to imagine the entire space or that one special focal point that gives your kitchen its character and impact. Be on the lookout, you never know where the next piece of design inspiration might just show up.
By Jim Grace