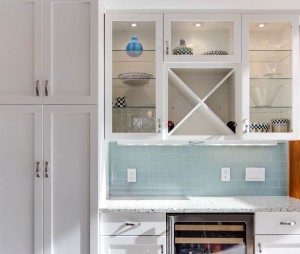 Lighting inside and underneath provides both ambiance and task-based illumination (with some storage on the side!).
Wondering if you are wanting the same things in your new kitchen design as others do? The following top 5 kitchen design requests were heard most frequently by clients starting a kitchen remodel project according to a recent survey by Kitchen & Bath Design News:
1. 84.5% want more/better storage in the kitchen
2. 82.2% (tie) want a more functional layout/new cabinetry and new countertops
3. 58.9% want new kitchen appliances
4. 55% want to focus on budget and saving money
5. 49.6% want better lighting
Functionality, be it through storage or kitchen design, is on almost every consumers wish list. And as always, most consumers remain cautious in their spending. Lighting continues to "surge" in popularity as all buying demographics demand better lighting. Other kitchen design requests mentioned included: personalizing the kitchen space, adding an island, improving accessibility and increasing the size of the kitchen.
While these top 5 kitchen design requests give you an idea of what other consumers are asking for, at the end of the day what is most important is that you create the space, storage and kitchen design you need to enjoy your kitchen for many, many years to come.
By Jim Grace
This post was created using content from the article "Consumer Buying Preferences Reflect Changing Priorities" by Janice Costa, Kitchen & Bath Design News, October 2013.