Trending on Kitchen Hardware - Small or Large?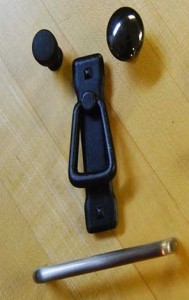 One of the biggest questions we get is "How big should my hardware be?". With people's preferences always seeming to change, the good news is that there is no wrong answer! Going with smaller kitchen hardware typically gives it a more subtle look that easily blends into the design without becoming a focal point. Bigger pieces of hardware can sometimes become distracting or an unintended focal point in the kitchen. A popular trend is larger kitchen hardware is longer, sleek pieces that sometimes follow and compliment the already long and sleek lines of appliance style pulls.
With a move toward simplicity, what does that mean for your kitchen hardware? Will it be small and subtle...or long and sleek? Both offer simplicity with very different styles and their impact on a kitchen's look and feel. The final choice and what role you want kitchen hardware to play in your new space is up to you!
By Jim Grace