The latest Houzz survey on bathrooms tells us that more than anything else, customers who are starting bathroom remodeling projects are looking for upgraded features and fixtures, with almost half (49%) citing that as their main reason for remodeling. In addition to that, a little over a third (37%) of bathroom remodeling clients also want to make the space more functional.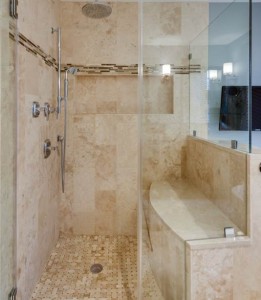 So how are they going about it? According to the same Houzz survey, the most desired amenities in a newly remodeled bathroom are:
• New Window (48%) – natural light brings warmth to any space
• Shower Seat (42%) – a safe and comfortable option in any shower
• Lighted Vanity Mirror (41%) – task lighting at the mirror is key
• Radiant Heat Flooring (28%) – a warming trend in bathrooms
• Dual-Flush Toilet (23%) – an opportunity to conserve water
• Towel Warmers (19%) – more "heat" for the bathroom
• Curbless Showers (16%) – a safer option for shower entry and exit
While almost half of those surveyed favored new windows in the space, the results also showed that people are "warming" up to other features such as heated floors and towel warmers, as well as more universal features such as shower seats and curbless showers for an easier (and safer) showering experience.
Whether your reasons for considering a bathroom remodeling project for these or for other reasons, the most important thing is to do your research ahead of time and work with a professional to determine the best products and design to bring you the most enjoyment in your newly remodeled bathroom.
By Jim Grace