Football fans missing the action on the field this time of year turn their attention off the field to focus on this week's NFL Draft. It feels like we have been hearing about this forever as teams evaluate wants, needs and in some cases just plain desires as they determine what is going to have the biggest impact on the success of their team. Do they go for the flash of scoring and offense with a big flashy move or a series of more conservative, functioning decisions and picks to improve multiple parts of the team. With literally hundreds of players of varying talents and abilities to choose from, a solid game plan is needed to meet needs and improve the function, form and style of the team.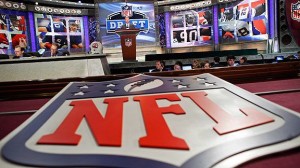 Kitchen remodeling is not much different. There might be only one "team" involved, but you need your own solid game plan for kitchen remodeling to fulfill your own needs and improve the function, form and style of your kitchen.
Start by knowing what your budget (salary cap) will be for your kitchen remodeling project. That will determine how many "picks" you can make in your kitchen remodeling draft.
Once you've done that, it is time to start evaluating the "talent", in this case the options available as you make critical decisions in your kitchen remodeling process that will start to build your kitchen (i.e. team). Do you break the bank and go all out on the "first" pick and select the exotic wood kitchen cabinets with the custom paint and distressed finishing, or do you build your kitchen "team" through the draft by prioritizing the most important needs of the kitchen – new appliances, a more efficient work triangle, roll out trays in the base cabinets, pull out storage cabinets, glass doors, under cabinet lighting and more. Let the remodeling strategizing begin!
While we may not be a Mel Kiper Jr. or other NFL Draft Day expert, think of Reico as your very own Director of Personnel, an expert in helping you evaluate options and talent to help you build your kitchen dream. While the NFL draft may only come once a year, the Kitchen Remodeling draft happens every day which really makes us experts of a different kind.
By Jim Grace