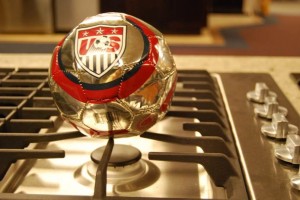 Feeling the heat?
Whether you are a fan of soccer or not, chances are you have heard about soccer's World Cup starting next week in Brazil.  For soccer fans, a little something known as World Cup fever will soon strike with a vengeance, consuming us anywhere from 2 weeks to almost 4 weeks (if you are one of the lucky ones to make it to the finals and raise the Cup).  Having been to a World Cup myself back in '98 in France, I have personally seen World Cup fever firsthand.  It has many symptoms…joy, anger, passion, frustration, enthusiasm, fear, concern, nervousness, excitement…which are typically are experienced in wild extremes from one emotion to the next.  Maybe college football or basketball in the U.S. would come close, but the truth is that no sport we have taps into emotions in same way.
But finally, after years, it became clear to me.  Crystal clear.  You can't compare World Cup fever to any other sport in the U.S., but what you can compare it to is something I have identified as Kitchen Remodeling fever.  The symptoms are almost identical…
Joy – I'm so excited
Anger – Enough finish samples.  I can't make up my mind.
Passion – There is nothing more important to me right now than this kitchen project.
Frustration – Can't they make the hardware bigger than this?
Enthusiasm – Here is my Houzz ideabook.  My Pinterest pin boards.  My…
Fear – Did I make the right decisions?
Concern – Who tore everything out?!  There is nothing in my kitchen!
Nervousness – What if I don't love it?
Excitement – The cabinets are going in and the countertop looks really good.  I can't wait!
The good news is that while the chances of fully curing World Cup fever are typically very slim (some countries have never gotten rid of it), curing Kitchen Remodeling fever is easier and has a much higher success rate.  Our professionals are experts at recognizing the "symptoms" of Kitchen Remodeling fever and know what it takes to "cure" things and bring a new kitchen to life.  Sadly our expertise does not extend to the pitch and while we can't help the U.S. Mens' Soccer team cure its' own World Cup fever, we are more than happy to help the team (or anyone for that matter) with Kitchen Remodeling fever.
By Jim Grace