Okay, maybe LeBron's decision wasn't so hard after all. I mean, he was going to get paid millions of dollars not matter what decision he ended up making. But what does he really know about tough decisions? Has he ever had to decide on whether a knob or pull would look better on his new kitchen cabinets? Did he ever have to look at so many cabinet finish samples that they all started to look the same? Or try to put together a cabinet finish sample with a countertop color sample, a flooring sample and tile backsplash sample to see if they would look good together?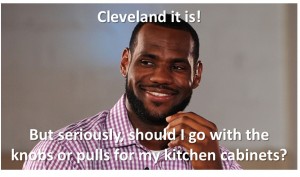 The reality is that people who decide to start a kitchen remodeling project really make "the decision". They want to make sure their new kitchen looks just right and so each decision becomes "the decision" when it comes to what is best for the new kitchen that they have been dreaming about for years.
So enough about LeBron James and the decision he had to make (though I don't think you will hear any complaints from the Cleveland area or most of Ohio for that matter).
Let's hear it for the people who make "the decision" every day to start a kitchen remodeling project…and for all the other decisions they have to make as a result to create the kitchen of their dreams. You may not see any tweets about it. Or Facebook posts. Or updates on Vine or Instagram. Maybe a question on Houzz for some social input. Or possibly a picture or too at some point if you're lucky. But that's it.
P.S. I don't want to hear any Lebron-ing over this either…
By Jim Grace