Every kitchen has a focal point. Whether it is intended or unintended well…that's another story. For the desperate to remodel crowd, the whole kitchen could be the focal point because you can't stand it. But for this post, we're talking about a different kind of focal point. The focal point of YOUR kitchen. Whether it is something special, something unique, something contrasting or maybe all of the above, your kitchen's focal point guides every visitor's eye to, and in some cases along, your kitchen.
Most are very simple…a contrasting finish on a single cabinet or kitchen island. Or maybe a wall cabinet that extends all the way to a countertop. It could be decorative glass doors on cabinets or a pro-style appliance. There are near endless choices when it comes to finding the right kitchen focal point for your kitchen. Here are 7 of our favorite kitchen focal points:
Spice Up a Kitchen Island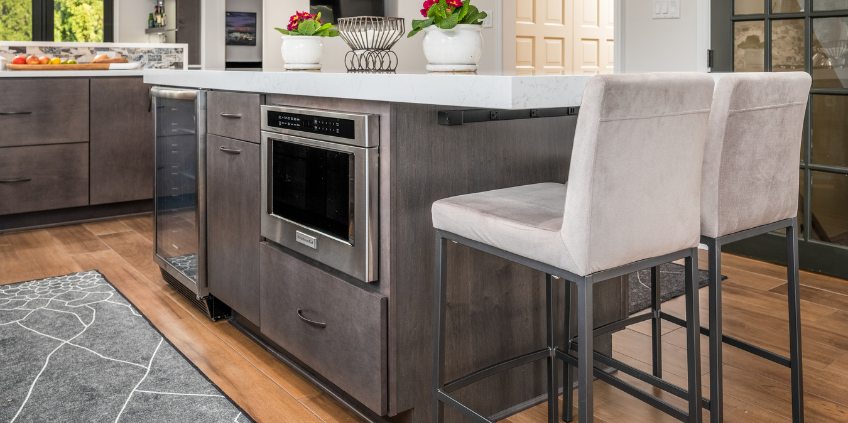 There are so many things you can do with a kitchen island to make it a focal point. Consider a contrasting finish, decorative accessories to give it a more furniture look, or tiered height countertops that combine multiple functions of sitting, socializing, and food prep. In some situations, you might just combine all 3!
Tile Backsplashes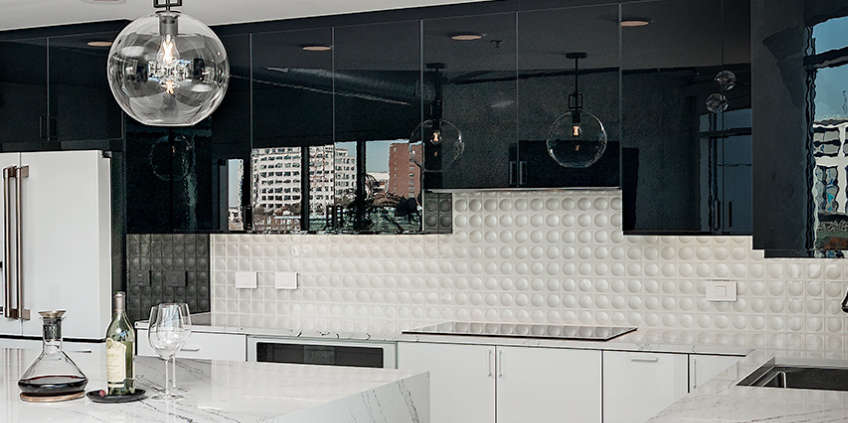 The variety, options, and popularity of backsplashes have never been greater than it is today. From materials choices ranging from the timeless (subway tile) to the unique (glass, copper & other materials), the space between your countertop and wall cabinets has never been more exciting.
Wood Countertops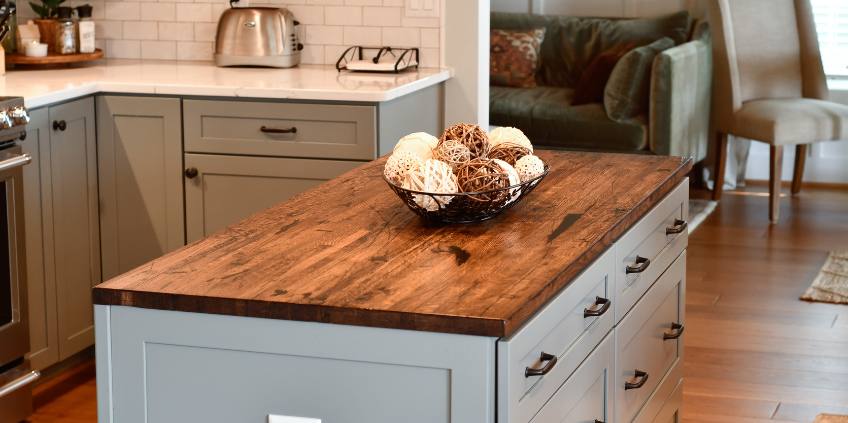 There is just something timeless about a well-finished piece of wood. Done right, it adds a richness and character to any room of the home. This especially applies to the kitchen, where a finished wood countertop can add the perfect finishing touch. With choices of exotic woods and thicker built-up surfaces, a wood countertop becomes a stunning focal point in any kitchen.
Decorative Mantel Hoods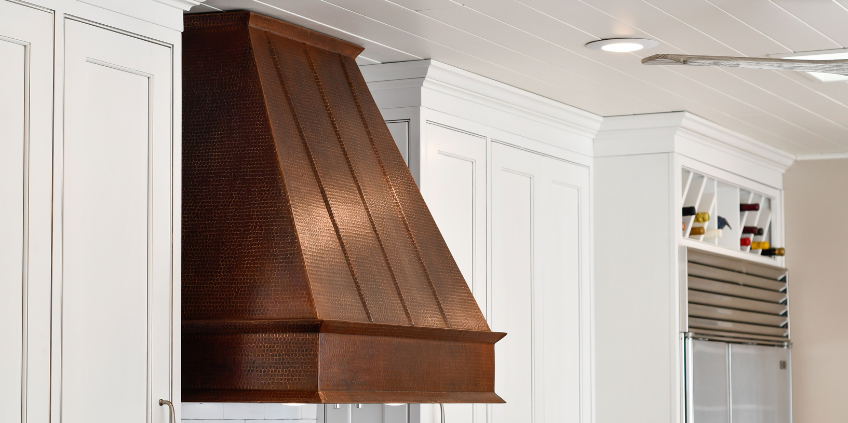 Decorative mantel hoods have sizable presences and commanding statures that draw the eye naturally, inviting onlookers to appreciate their artistry and craftsmanship. Mantel hoods offer a visually striking that can complement various kitchen styles, from rustic to contemporary. They usually come with intricate carvings, elegant moldings, and ornate details, these hoods elevate the overall ambiance of the space and can showcase your homeowner's personal taste and attention to detail.
Accent Countertops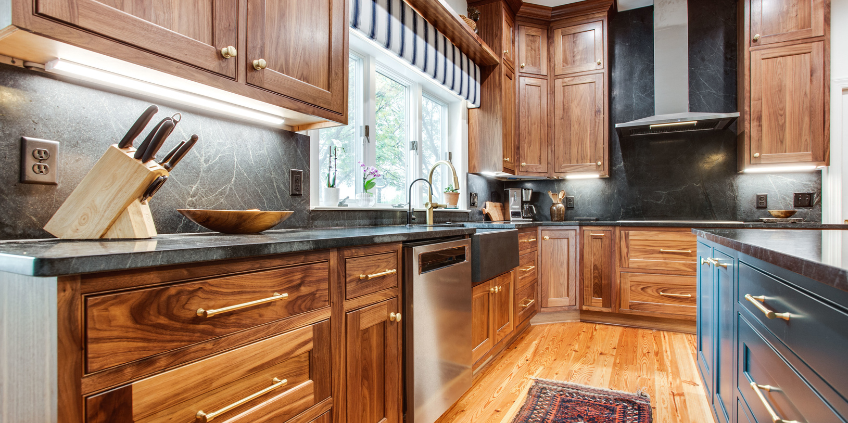 Another natural place for the eye to get drawn to is the countertop. It's arguably the most used area of a kitchen or even a bathroom, and a natural gathering place. If you have a kitchen island, adding a statement countertop can be a no-brainer way to create a focal point that brings the room together. Consider different colors of marble countertop or even a wooden slab for the material for your counters.
Decorative Glass Doors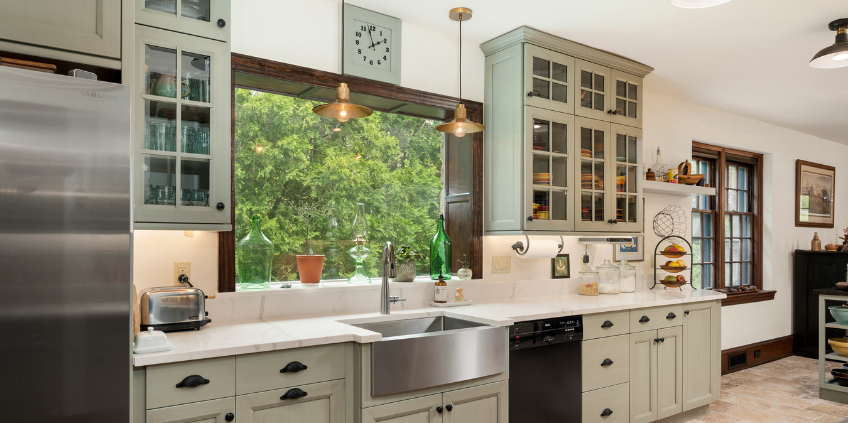 Decorative glass doors transform a lackluster kitchen into a visually captivating space by captuing attention and adding a touch of elegance. Glass doors can exude sophistication and charm with their intricate patterns, vibrant colors, and a variety of textures. The interplay of light with the glass surfaces generates an enchanting ambiance, casting soft reflections and shadows throughout the room.
Light It Up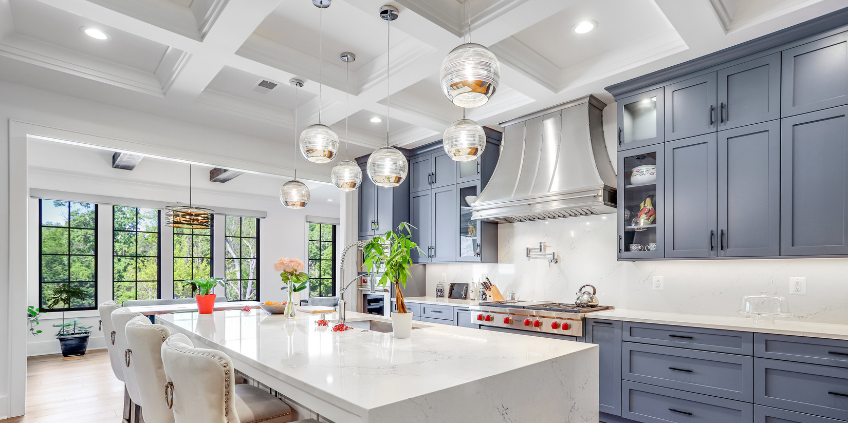 Great lighting is a key element of any great focal point. The impact of a well-placed lighting fixture is often overlooked. Add a lamp or a chandelier to the area you want people to notice when they first walk into the room.
A room full of textures and different materials might distract the eye. But a well-lit area immediately draws attention to where you want people to look. The eye will naturally gravitate toward a chandelier or a lamp. Bright lighting is especially good for situations where your room doesn't have a natural focal point because you can create that focal point for yourself.
Focal Point Design Considerations
You want to create harmony over "look at me, look at me." While we want our kitchen focal point to make a statement, we also want it to fit in with the entire look and feel of the kitchen. We don't want our focal point to be the kid with his hand up screaming "look at me, look at me!". A good kitchen focal point will stimulate interest not just for its uniqueness but also for how seamlessly it blends into the entire space.
Every side must be your "good side." A good kitchen focal point will be visible and offer looks from multiple perspectives in the kitchen. Whether it is a decorative hood with detailing on all 3 sides or a thoughtfully designed kitchen island with multiple heights, decorative panels and storage, you will appreciate it from many different angles and views.
Sometimes you can just "see right through" things. Using glass will invite you and others to take a look beyond the surface and into the beauty inside the space. The inside could mean many things, from special personal items to a different colored interior or even a look through a second set of glass doors into the beauty of the outdoors or other setting.
So does that mean there should be added pressure to pick a focal point for the kitchen? No. Work with your Reico kitchen designer to find the right area in your kitchen and then work on the details of the space to highlight this area. A good collaborative effort will help you identify kitchen design ideas that can ultimately be narrowed to the focal point that is right for your space.