Every kitchen has a focal point. Whether it is intended or unintended well…that's another story. For the desperate to remodel crowd, the whole kitchen could be the focal point because you can't stand it. But for this post, we're talking about a different kind of focal point. The focal point of YOUR kitchen. Whether it is something special, something unique, something contrasting or maybe all of the above, your kitchen's focal point guides every visitor's eye to, and in some cases along, your kitchen.
Most are very simple…a contrasting finish on a single cabinet or kitchen island. Or maybe a wall cabinet that extends all the way to a countertop. It could be decorative glass doors on cabinets or a pro-style appliance. There are near endless choices when it comes to finding the right kitchen focal point for your kitchen. Here are 3 of our favorite kitchen focal points: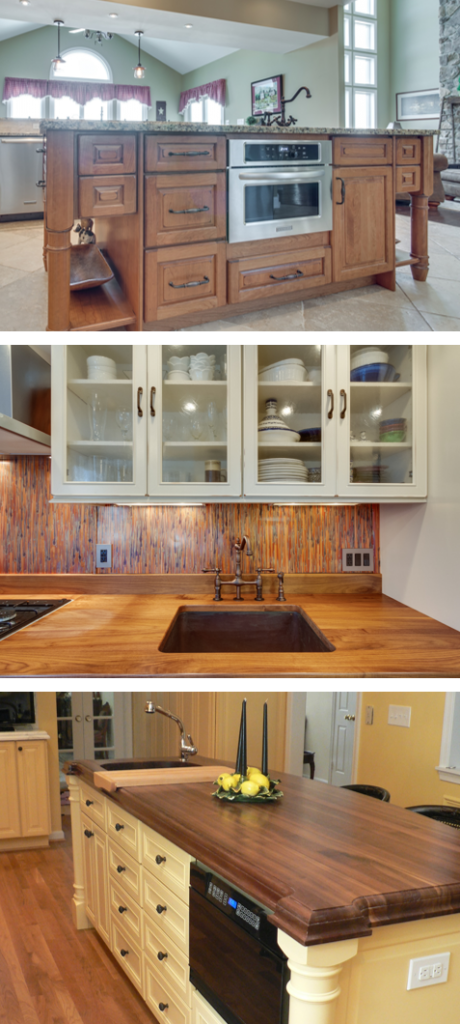 Kitchen islands – there are so many things you can do with a kitchen island to make it a focal point. Consider a contrasting finish, decorative accessories to give it a more furniture look or tiered height countertops that combine multiple functions of sitting, socializing and food prep. In some situations you might just combine all 3!
Backsplashes – the variety, options and popularity of backsplashes has never been greater than it is today. From materials choices ranging from the timeless (subway tile) to the unique (glass, copper & other materials), the space between your countertop and wall cabinets has never been more exciting.
Wood countertops - there is just something timeless about a well-finished piece of wood. Done right, it adds a richness and character to any room of the home. This especially applies to the kitchen, where a finished wood countertop can add the perfect finishing touch. With choices of exotic woods and thicker built up surfaces, a wood countertop becomes a stunning focal point in any kitchen.
The most important thing to consider when finding the right focal point for your kitchen is….you. You are the one who will be in your kitchen day in and day out. What will you love to look at? What will bring a smile to your face every time? Find that out and you have found your kitchen focal point.