When you decide to remodel a bathroom, you can't help but get excited. Even a small bathroom design can be transformed with the right choice of cabinets, countertops, and fixtures. Get it right and all of sudden it just might be the most popular bathroom in the house.
So how can you go big with a small bathroom design? Consider these 16 ideas help get the most out of your small bathroom design:
1. Change Functions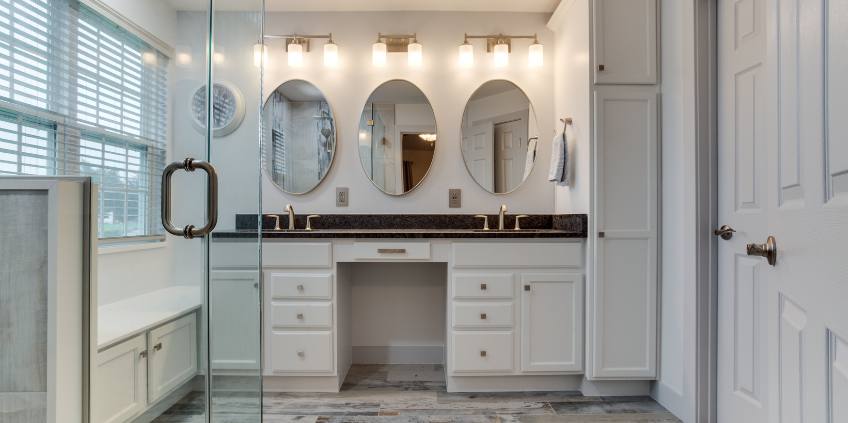 Your current small bathroom design typically has tons of opportunities hiding. Can you add drawers to your vanity cabinet to increase storage and take more items off the countertop? Can you go from a single bowl to double vanity top, ideal for moving the kids faster in the morning without fighting over one sink. Perhaps a vanity linen cabinet can replace a built-in linen closet and really tie the space together.


2. Add color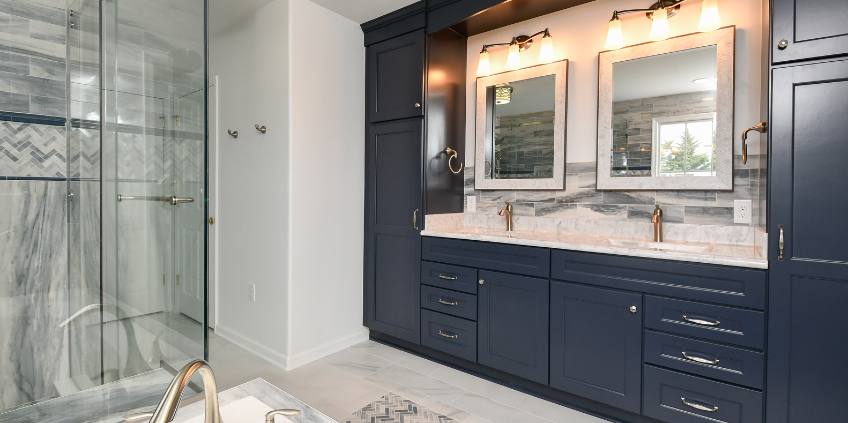 Color plays a big part in the transformation of any small bathroom design, and the project picture is no exception. When it comes to adding color, the opportunities are endless. It can be as simple as the paint on the walls or as bold as the tile or cabinet finish you choose.


3. More Glass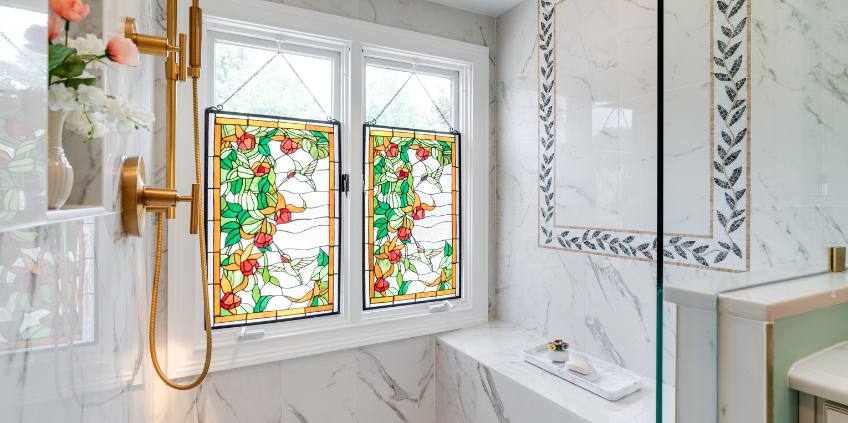 A bathroom remodel typically means "curtains" for the old shower – cheers to that! Glass doors are a great way to open up a small bathroom design. And by adding some visual interest like a tile shower inlay (shown in picture, you draw your attention through the glass and up, down and all around to make the space feel bigger.
4. Get Things Out of the Way
There are more options than ever to create more space within your small bathroom design. Reduced depth vanity cabinets and space saving toilets give you a little more room to work with, while using pocket doors, lower profile fixtures that take up less room or under mount sinks that give just a little more landing space on a countertop are more subtle but still valuable space-adding decisions.
5. Keep It Simple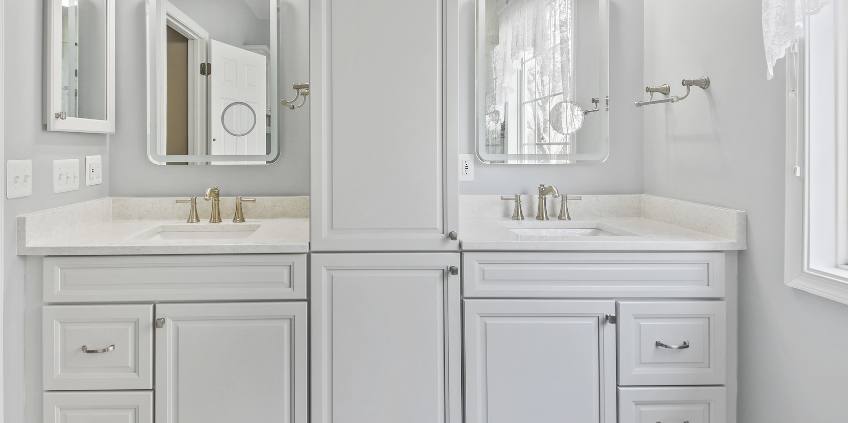 Streamlined fixtures and furnishings create an illusion of spaciousness and keep the focus on functionality. Using a neutral color palette and incorporating elements such as floating vanities or glass shower enclosures means you get a visually uncluttered environment. By limiting decorative accents and embracing minimalism, you can enjoy a more breathable space, ensuring that even the tiniest of bathrooms feels comfortable and inviting.
6. Use Vanity Drawers Instead of Cabinets
Drawers offer more efficient use of space by allowing easy access to items and enabling better organization while eliminating wasted vertical space. This compartmentalization keeps toiletries and other essentials tidy and within reach. Moreover, vanities with drawers often come in a variety of sizes and designs, ensuring that homeowners can find a style they love that still has ample storage.
7. Get a Corner Sink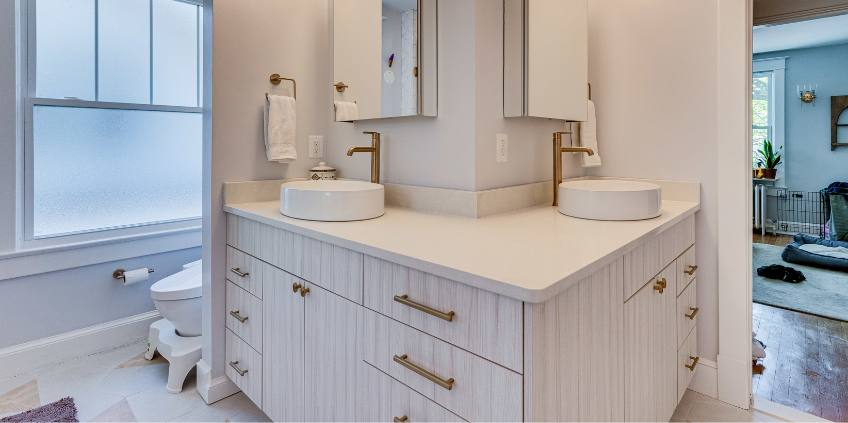 In a smaller space, a big sink can take up a lot of walking room. When you remove that large rectangular space for the more efficient shape of the corner sink, you're going to notice a huge difference. Plus, corner sinks are a modern take on the classic bathroom look.
8. Try a Trough Sink
If a corner sink isn't for you, consider a trough sink design. It's super trendy, and the design that narrows as it progresses is ultra-space-conservative. Because they're typically wall mounted, they'll also allow you to have much more free room for your feet.
9. Recessed Medicine Cabinets
Add some extra room to your area by installing recessed medicine cabinets instead. This adds depth to the entirety of your bathroom. Up the game by installing electrical outlets inside the recessed space. By doing this, you remove the extra chargeable gadgets you've got hanging around your bathroom, making the space look messy.
10. Put the Towel Bar on a Door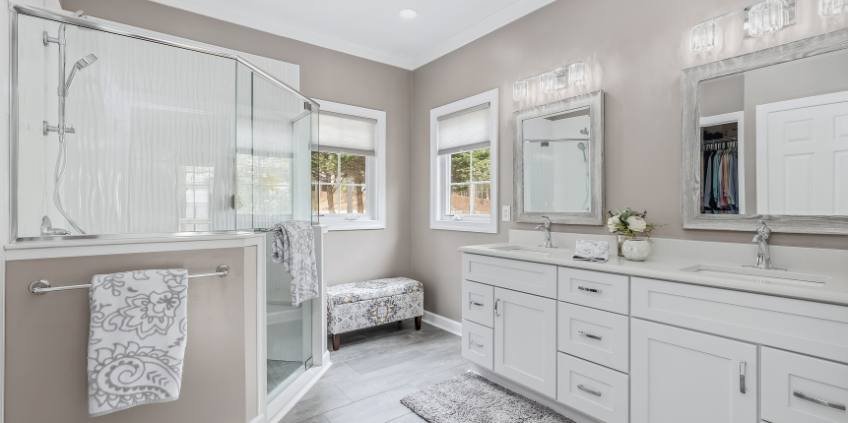 No space for a towel rack? Think again. If you mount it on the door of your bathroom, you're using space to the best of its ability. Just make sure that when you're opening and closing the door, it's able to swing freely and not smash into any of your fixtures.
11. Change Your Floor Tiles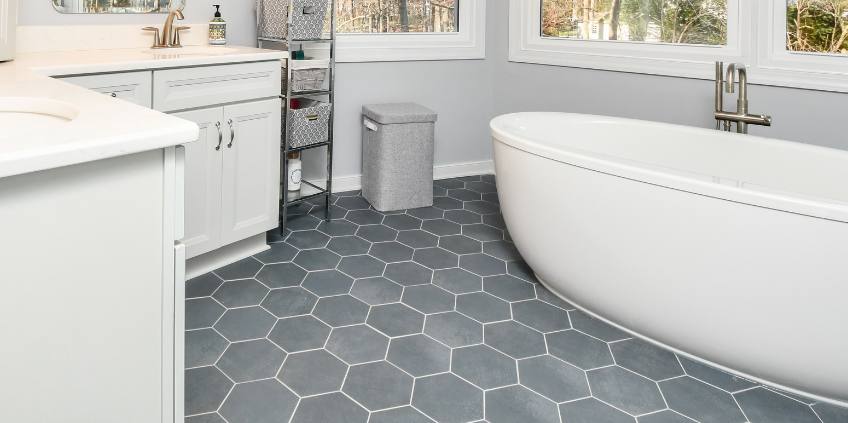 When it comes to floor tile design, bigger is better. Smaller tiles can give the appearance of a smaller area. Choose a larger tiled floor design to broaden the look of your bathroom.
12. Get a Shower Niche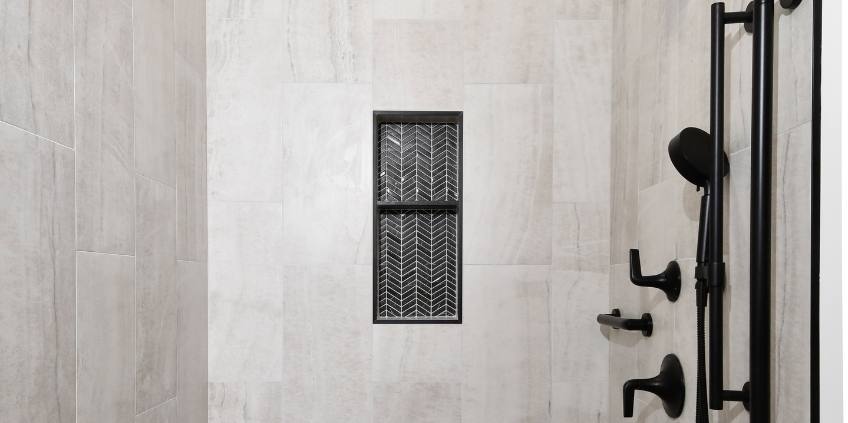 If you like your recessed medicine cabinet, then you're going to like the idea of a shower niche. Instead of those awkward corners taking up space in your small shower, add a recessed shelf so you have more room for storage without always bumping your elbows on the protruding shelves.
13. A Wet-Room Floor
A wet-room-and-bath allows your shower to seamlessly blend with the rest of your bathroom because the water just drains to your wetroom floor. You don't have to make room for a shower enclosure because your entire bathroom IS the shower enclosure. In addition, there's always the tried and true shower and bath combination, but the wet-room floors add a helpful touch that can't be parallelled.
14. Suspending Items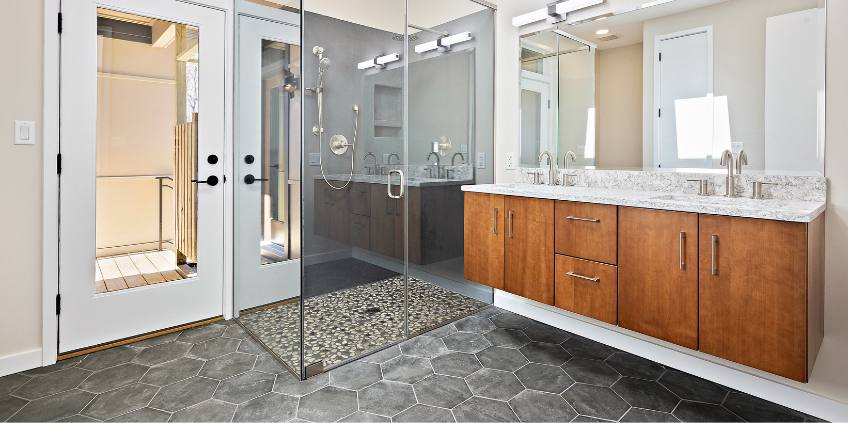 When you feel like there's no room to stand in your small bathroom, it's because there's a small footprint. You've squeezed a toilet, a shower, sink, and cabinets into your space.
A space-creating solution is to bring those things up off of the floor. A floating sink can create room for you to put your feet where you want to put your feet. Suspended or "floating" cabinets can also be a huge help in broadening your bathroom's footprint by making the space look more open.
15. Lighten Things Up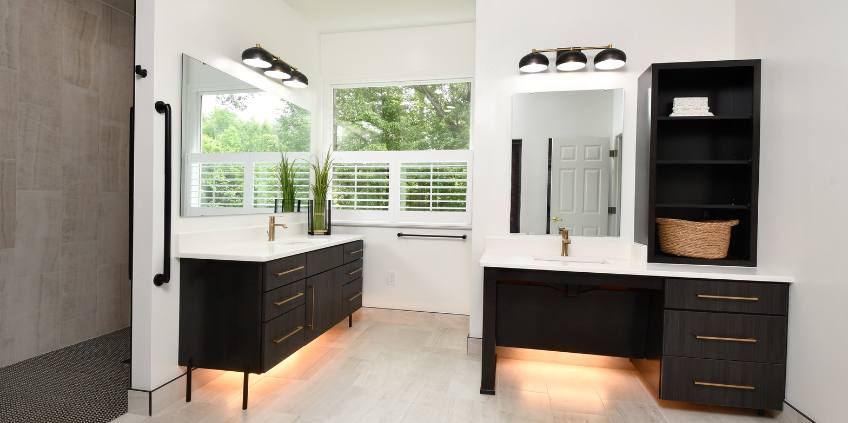 A bathroom that's small and has bad lighting is a one-two combination that no one wants. Dim and ineffective lighting can make your bathroom seem smaller than it actually is. You'll feel gloomy about your small bathroom if it's gloomy. So it's time to lighten things up!
There are plenty of small bathroom design ideas that you can consider to create one "hall" of a bathroom. Understanding the options and the limitations you have can help you create the perfect small bathroom design. The hall bathroom is typically utilized by many, so set it up that way!