5 reasons your kitchen could use a warming drawer!
So you think a warming drawer is really that impractical? I beg to differ. In fact, I would argue that the larger your family, the more essential a warming drawer becomes to the kitchen. With its' sleek design and compact drawer-sized fit, a warming drawer can be a welcome and strategically designed element of your next kitchen. Here are 5 reasons (and 1 bonus suggestion!) that you should consider when deciding whether a warming drawer would be right for your kitchen.
The kids are at practice.
In my house, Sunday nights are the only night of the week where someone is usually not going somewhere. The rest of the week is non-stop with sports, music and more. We've all come home to the plate that's been sitting on the countertop for hours, or worse chilled down in the refrigerator. A warming drawer would keep those meals warm and fresh and ready no matter what time they get home.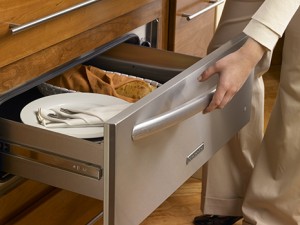 The whole family is coming for dinner.
Be it for the holidays or just because, we love it when the whole family gets together! And while the company is second to none, getting everything to the table hot and ready is the real challenge. Whether you just want to keep food warm while you pull everything together or you want to warm up plates to keep the food on your plate warmer longer, a warming drawer can help with both.
You overslept – our favorite!
Whether you turned off the alarm and missed Sunday breakfast prepared by your kids or significant other, or had a quick afternoon power nap turned into a full on extended cat nap, whatever meal you missed can be waiting for you in all its' glorious warmth with your warming drawer. I mean, who really wants to re-heat an omelet?
The proof is in…the drawer!
Not only do warming drawers provide warmth for foods, many current models have additional features to make them even a more practical appliance option for the kitchen and in some cases, an alternative to your time-tested crock pot. Like making your own bread? Certain models like KitchenAid offer options to proof bread as well as slow cook beef and other dishes, all while tucked away in the confines of your stylish warming drawer!
The occasional hot towel
This one may not be as practical but if were being completely honest, who doesn't absolutely love a warm towel? Whether is a clean dish towel for drying or a strategically placed clean towel to welcome in a backyard pool swimmer or all day snow man, a crisp hot towel wraps your child or whomever in the warmth of your towel (and love of course).
And the 6th reason you need to warm up your kitchen doesn't involve a warming drawer at all. Rather, we suggest warming up another way with a heated floor because you like being barefoot. Seriously, who doesn't love kicking off their shoes at the end of a busy work day and feeling what's beneath your feet. No more brisk fall or chilly spring mornings. Your heated floor lets you enjoy being barefoot in the kitchen year round.
I for one know that my wife and kids would warm up to these ideas immediately. We live most if not all the reasons above. Don't let it become a "heated" conversation about the thing you wish you had added to your kitchen. Consider all the reasons a warming drawer (or floor) would make sense for you in order to make a good decision for your family and your kitchen.