None of us want to miss out on the must-haves when it comes to remodeling. And for today's kitchen, those "must-haves" are surprisingly practical and highly impactful to the function of the kitchen. According to the results of a recent online poll of more than 300 kitchen dealers and designers conducted exclusively for Kitchen & Bath Design News by the Research Institute for Cooking & Kitchen Intelligence (RICKI), here are the top 5 "must-haves" for today's kitchen: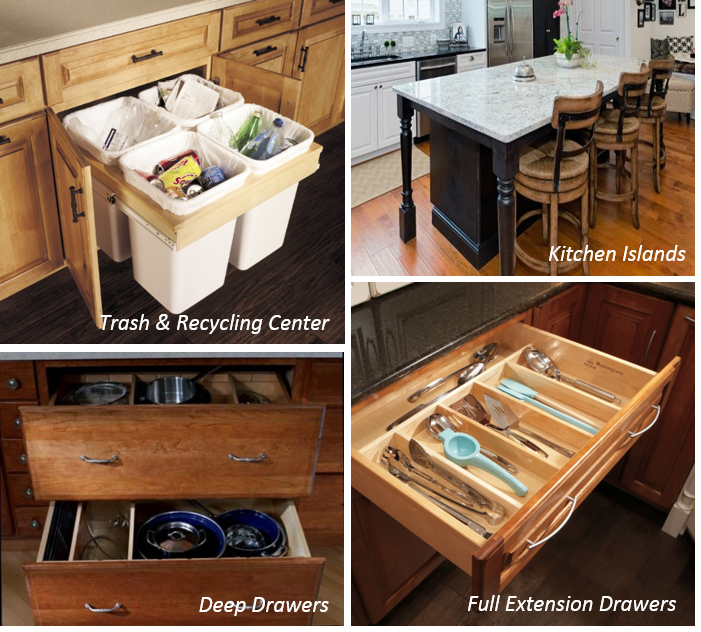 1)Full extension drawers - Nobody wants to try and guess what is in the back of the drawer of any cabinet. Full extension guides allow drawers to come out to the front edge of your cabinet, letting you easily see and grab everything inside that drawer.
2)Trash/recycling bins- Just like nobody wants to guess at what is in the back of the drawer, no one wants to see their trash or recycling either. Today's combinations offer both, with options from 1-4 bins to handle multiple trash and recycling needs.
3)Kitchen island- The reasons people want a kitchen island are vastly different. More storage, a dedicated work space, a space for the kids to do homework, a place for friends or guests to sit, you name it. A kitchen island can do any...or all of the above.
4)Deep drawers - As our collection of pots, pans, serving dishes and more grow, so to do our storage needs. Adding deeper drawer cabinets to a kitchen offers greater flexibility for storing more of anything, including those larger or more oddly shaped items.
5)More accessible storage - from pull out spice trays that hide behind fillers to the classic tilt out sink tray, having storage where you really need it makes all the difference in a well-designed kitchen. Understanding the cabinets and cabinet accessories that can provide more accessible storage is a critical part of the discovery and design process.
Other must haves that just missed out making the top 5 include LED lighting, separate range hoods that are not part of a microwave and custom and semi-custom cabinets that can meet the changing needs and demands of how clients store, prepare and serve their food.
At the end of the day, it's most important to know what your own "must-haves" are for your kitchen. By doing your research (like reading this informative blog) you will quickly identify your own as you put together the kitchen of your dreams.