When it comes to our drawers we all tend to be a little private, don't we? It's not exactly the type of thing we just want everyone (or anyone) to see. But when it comes to our kitchen drawers, the options and functionality have expanded way beyond a simple cabinet drawer.
In addition to the near endless variety of kitchen cabinet accessories you can add to cabinet drawers, drawer appliances continue to nudge their way into the kitchen and the entire home. These stylish point-of-use solutions offer sleek design and simple convenience that fits in with the lifestyles of the users.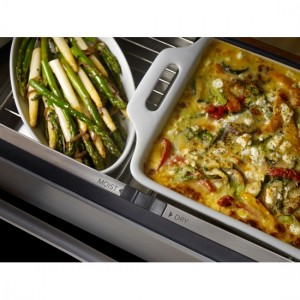 Here are 3 kitchen drawer appliances to consider for your next kitchen remodel, or any remodel where cabinets are being considered:
Warming Drawer Appliances – whether it is your own busy life or a family on the go coming home at all hours from soccer practices, band concerts and varied work schedules, a warming drawer appliance allows you to enjoy food the way it was intended to be service. It can also warm plates, slow roast vegetables or meats and even proof bread. Want more? Put one in your master bath to warm up towels and robes.
Refrigerator Drawer Appliances – when you desire very precise refrigeration for specific foods or beverages, refrigerator drawer appliances can be a better option that full size refrigerators. It may allow for a more standard full size refrigerator in the kitchen with refrigerator drawer appliances designed strategically in the kitchen and beyond into bar areas, fitness rooms, coffee nooks and more.
Dishwasher Drawer Appliances – with comparable capacity and the potential for energy savings, dishwasher drawer appliances can be a great solution when your dishwasher needs are less frequent or you need the space in a smaller kitchen. Water and energy consumption is typically less by drawer, making for a more environmentally friendly resource. Check dimensions though and make sure your dinner plates will fit in it properly.
With easier to reach controls and clean lines, there is nothing "cheeky" about these drawers no matter where you might find them! All of these drawer options offer space-saving convenience that works in the kitchen and throughout the home.
By Jim Grace