Another GOP presidential debate is in the books. And much like the wide-reaching choices in candidates, the wide-reaching choices for the right cabinet color or finish for your kitchen remodel are no less daunting, confusing or in some cases…downright terrifying. It becomes a true "residential" debate to find the right cabinet color or finish.
So let us moderate this debate and give you some reasons why white just may be the best "candidate" for your kitchen remodel: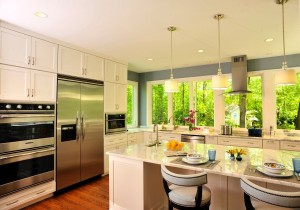 White is timeless.
While colors and finishes come and go white has hung in there the entire time, particularly as shades of whites and off-whites have offered more options to soften the color of the space. It works its way into almost any kitchen style from traditional to more transitional looks.
White makes a space feel bigger.
White cabinets are clean, they're fresh and they brighten up even the smallest of kitchen spaces to make it feel bigger.
White is easy to work with.
It is a blank slate that you can add any color you want to it. Find colors to use in countertops, appliances, hardware, tile backsplashes that can contrast and gently complement your white cabinets.
White makes you feel good.
Color therapists will tell you that the color white is associated with light, goodness, innocence and purity. So bring on the good vibes…and embrace the "color of perfection" as you create a perfect kitchen remodel.
White sells.
Its' universal appeal is a popular choice if you are selling a home.
So it is really a debate? It really "trumps" the competition. You definitely won't see white campaign for itself. It does not have to. There are so many reasons why a kitchen remodel that starts with white cabinets is the right choice.
We do stand by our position that any kitchen be all white. This is a kitchen, not a laboratory (for the most part anyway…insert your own kitchen mishap story here). There always needs to be some balance so you avoid creating the wrong environment(that is what your moderator, I mean your
, what I am really trying to say is your Reico designer is for).