is something that we should be doing every day. And in Chesapeake, VA we are getting a very special opportunity to work on a kitchen remodeling project with our own group of "veterans". Two of them are military veterans and one of them is a "veteran" of the kitchen and bath industry. How did they come together to be working on this special kitchen remodeling project?
Solomon "Butch" Revils is many things. A hard worker, a good neighbor, a father to 2 young men, a person with an amazing attitude and spirit…and a Veteran. A former Marine from 1982-89, Butch retired after a motorcycle accident that took both of his legs. But that did not stop him on any level. His spirt and competitiveness still flowed within him. Butch joined the Paralyzed Veterans Racing Team in 2012 and started racing in multiple events. To date he has competed in roughly 40 races of varying distances, covering as far as 36 miles and including a marathon best time of 1 hour and 42 minutes. His next adventure is taking him to Florida, where he will participate in an intense week long camp at the High Performance Hand Cycling Clinic. Currently living in a home that was originally adapted for his needs, he recognized it was time to improve on the fit and function of the space.
Tim Viglietta is an expert installer and jack of all tradesman who has partnered with Reico Kitchen & Bath on multiple projects, largely thanks to his expertise and "can do" attitude. It is this attitude that served him well during his time in the military, working as Jet Mechanic in the Marines from 1982-1986. So, it is of no surprise to anyone that Butch and Tim formed an instant connection and life-long friendship.
So, with 2 former Marines on this kitchen remodeling project, how do you bring it all together?
By throwing them in with a kitchen and bath industry veteran (and neighbor of Butch's) Kristen Campbell, Manager and Designer of Reico Kitchen & Bath in both Chesapeake, VA and Williamsburg, VA. Her Canadian heritage would have limited her to Royal Mountie status at best, but she chose to focus her energy on design, working on kitchen and bathroom remodeling projects of all types.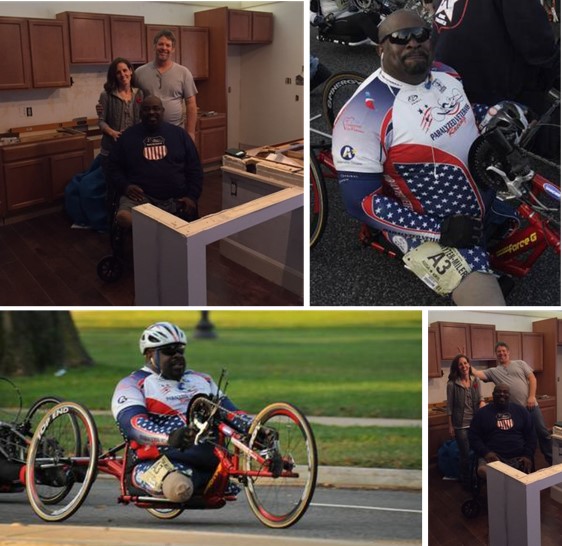 Both Kristen and Butch share a love of competition and a good challenge. Kristen is preparing for her first 50k run this December, making the connection with Butch even stronger. With much focus and determination, their shared goal is completing this kitchen remodeling project! A project that has been carefully designed to accommodate Butch in his daily life, allowing easy access to every facet of the kitchen by incorporating features such as:
ADA cabinets w/ roll out trays
Drop down cooking section, including pop up blower with remote access
Delta faucets w/ TOUCH2O Technology
Custom desk/workstation
Hardwood flooring throughout
When individuals have the chance to inspire each other, be it through a friendship, a special connection or maybe even a kitchen remodeling project, everyone benefits. When the opportunity presents itself to help a veteran and a friend, who has already done so much for our country, make their life a little easier, it gets a little bit better every time.
If you'd like to learn more about the Paralyzed Veterans Racing team and/or make a donation to this wonderful organization, please join them on their website at
.