This week saw the roll out of the long anticipated Apple Watch, a device that can do just about everything but prepare and cook your meals (not yet at least). And while many of us here at Reico are just as curious and excited about this next new thing in technology, we couldn't help but wonder what this means for people who are also looking at kitchen cabinets for sale in hopes of completing that long awaited kitchen remodeling project.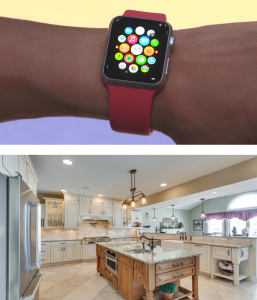 So, thanks to a great tweet from USA Today, we started thinking more about it. For the Gold Apple Watch edition that retails for $10,000, how much of a kitchen remodeling project could you complete?
Sizes of kitchens vary from home to home and costs vary by region, so coming up with an average cost is not always easy. Using some quick research online and our own data put us in the ballpark of anywhere from $18,000 to $21,000 on average for a 30 linear foot kitchen remodel that can include all or parts of replacing cabinets, countertops, appliances and more along with considerations for flooring, hardware and wall coverings or paint. Based on that math, a Gold Apple Watch would be the equivalent of a nice down payment on the cost of the average kitchen remodeling project. And unlike the pace of change in technology, your kitchen will be current and in style for much longer!
You might do even better, but it's going to take more than just finding kitchen cabinets for sale to make this work. If your purpose is to update a home for re-sale purposes, that $10,000 could go even further. And let's not forget too that if we are married or in a serious relationship, there is no way we could come home with one Gold Apple Watch for ourselves and not have one for our partner. Now that's $20k to work with (hypothetically speaking, of course)!
Our suggestion….if you really must have the latest technology, then start with the Apple Sport Watch or mid-range Apple Watch and take advantage of Reico's own kitchen cabinets for sale to make this a spring to remember!
By Jim Grace