I'm a hockey fan and this year my favorite team, the Washington Capitals, are back in the NHL playoffs and in search of their very first Stanley Cup trophy. Every game matters, just like every decision in kitchen remodeling matters. The smallest detail can win or lose a game, just like it can make or break your kitchen.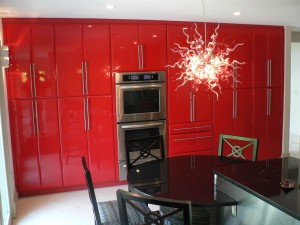 So it should come as no surprise that the Caps "Rock the Red" slogan goes well beyond the ice, making its' way into homes and in particular kitchens as homeowners look to pump some life into their kitchen remodeling project. Red is a positive, energizing color. It excites the emotions and motivates us to take action. There is nothing like the color red to get the heart thumping, adrenaline pumping and that kitchen look jumping.
So how do we add red to our kitchen? At the simplest level, it may be how we accessorize the kitchen. The dinnerware we use, the mugs we drink from, even that red KitchenAid mixer or those red Le Creuset baking dishes can add a subtle pop or eye grabbing look to the kitchen.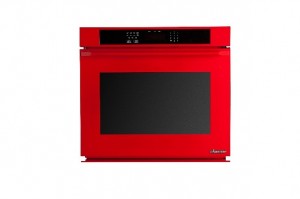 But for others that is not enough. Red is their color. It truly inspires them. For some it is a glossy red finish on their cabinets, either as a whole or as a strategically designed focal point. And it's not just cabinets that are getting the "red carpet" rolled out for them. Appliances are popping up in a bold variety of finishes from red to purple and beyond. Dacor, one of our appliance partners, is leading the way. Their DacorMatch™ Color System allows select cooking appliances to be personalized to any color imaginable, just by sending a color swatch.
So put away any fears of repeating the frightening choices our parents had in Avocado Green or Harvest Gold. Whether you choose to rock the red in your kitchen or you find another color that suits you, think big and bold and put your imagination to work to create the kitchen of your dreams.
And...Go Caps!
By Jim Grace