It seems like everyone is feeling a little deflated these days. Maybe it's the weather. Or maybe it's struggling with aggressive New Year's resolutions. If you are the Indianapolis Colts, you may be feeling especially deflated in light of the current "Deflategate" situation that the New England Patriots created.
Many of us though are just deflated over the current state of our kitchen. It's like someone just let the air out of our ball and we are stuck with something flat and not terribly enjoyable. And with winter limiting what we can do this time of year, the best chance to get outside may be by getting inside…a home show that is!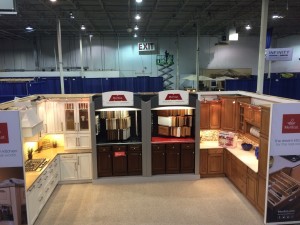 Come visit us in Booth 715!
What better way to start the year, thinking about rooms you spend the majority of your awake time in. Nobody watches the Pro Bowl...or the NHL All-Star game. March Madness is still a good month and a half away. This weekend is the perfect weekend to find a local home show, get out and find some inspiration that could become the initial building blocks to a kitchen remodeling or bathroom remodeling project in your own home. And why stop at kitchens and bathrooms? A good home show will give you ideas for everywhere inside and outside the home.
So by now you might have guessed it! We will be in Booth #715 at the Home & Remodeling Show this Friday through Sunday at the Dulles Expo Center in Chantilly, VA. We've brought in a huge booth with a couple kitchen displays and a large assortment of cabinet styles and finishes to get your creative juices flowing. There's even a chance to win a KitchenAid mixer if you're feeling lucky.
You may not catch a glimpse of Hans or Franz (or Aaron Rodgers for that matter), but we are pretty sure a trip to this or any home show this weekend is just what you need to "pump you up" and get over this deflated feeling! It's an idea that might even bring a smile to Bill Belichick's face (he's got a kitchen too you know…and a free weekend!).
By Jim Grace