For anyone considering a remodeling project, it can be very much like answering the age old question "Which came first, the chicken or the egg." Deciding which home remodeling project comes first, kitchen remodeling or bathroom remodeling, is always certain to spark a passionate debate in many a household. For every King of Prussia, PA kitchen remodeling project decision, there is a bathroom remodeling Richmond, VA project or elsewhere to counter.
But seriously, which should come first?
When the market took a downturn a few years back, it was widely believed the remodeling would hold steady or slightly improve, the thought being that people staying in their homes would be more likely to remodel to some degree to better enjoy their space. According to Deb Tomlin, branch manager of Reico Kitchen & Bath's Richmond, VA showroom, that's when they started seeing a real trend towards bathroom remodeling. "Bathroom remodeling projects became our most asked about projects at our Richmond, VA location and even as we see the market recover continues to be a popular project for clients to start with."
The popularity of bathroom remodeling has been further pushed by a few myths that it is often easier, cheaper and less disruptive than kitchen remodeling. Here are 3 myths about bathroom remodeling that we offer a quick "reality" check on: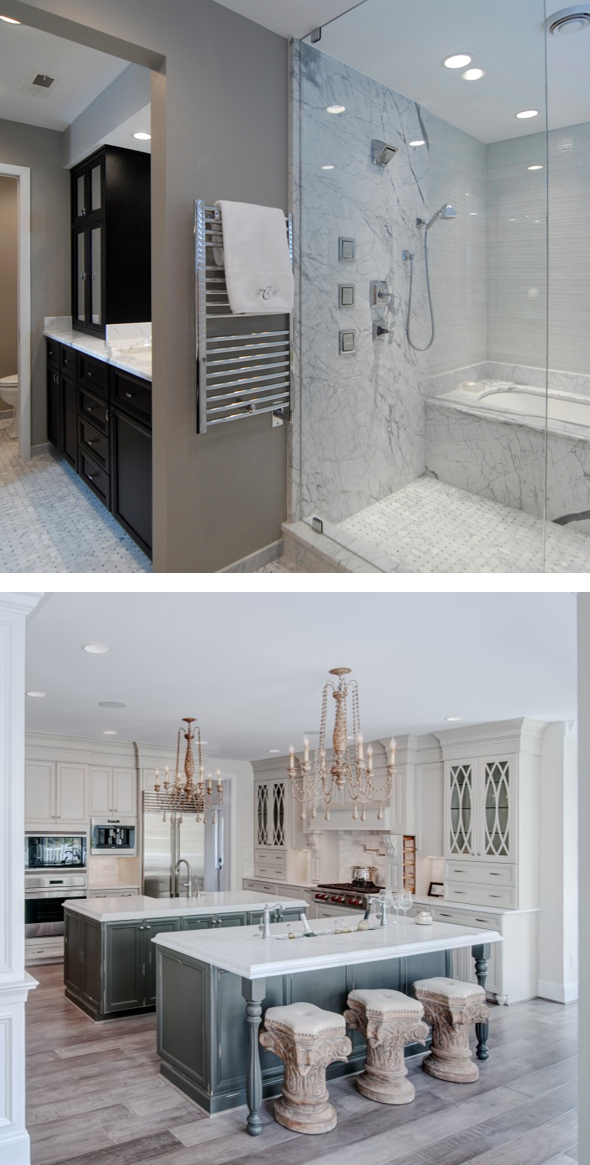 Myth: Bathroom remodeling has fewer decisions to make than kitchen remodeling.
Reality: Bathroom remodeling often has as many or more. Like kitchen remodeling, you have cabinets, countertops, flooring, tile and hardware in common. But what about toilets, tubs, grab bars, mirrors, shower, shower door, sink faucets, tub/shower faucets. You should be prepared to make just as many if not more decisions.
Myth: Bathroom Remodeling is less expensive than kitchen remodeling.
Reality: We think smaller space = less materials = less cost. Depending on the bathroom, this may or may not be true. And based on the list of materials shown above you have to make decisions on and labor costs associated with it, bathroom remodeling costs will often rival minor or in some cases even major kitchen remodeling projects depending on your own scope of work.
Myth: Bathroom Remodeling is less disruptive than kitchen remodeling.
Reality: All remodeling projects can be disruptive. When you decide to work in frequently used spaces of the home, be prepared to adjust your routines some. A good remodeling partner will help you plan for the disruption and identify how you will work around the space as your project is in the construction phase.
So while we may not have answered the question of which really comes first, what is clear is that bathroom remodeling is just as involved as kitchen remodeling. Being prepared going into either remodeling project will go a long way to creating your dream bathroom or kitchen.
Thinking about a bathroom remodeling project? Download our Bathroom Planning Guide!
Thinking about a kitchen remodeling project? Download our Kitchen Planning Guide!
By Jim Grace