I'm not a superhero. While I played one in a recent company update (what do you mean you've never heard of Captain Reico), the truth of the matter is I'm just like everybody else. Well, almost everybody else. The people who protect us, save lives and make the world a better place to live…those are our superheroes, the Superman's and Wonder Women who work hard day in and day out and never let up.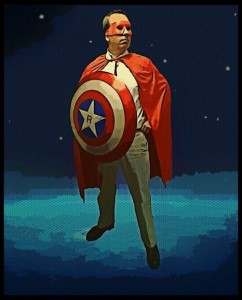 Captain Reico? Never heard of him...
But what about that next tier of superheroes? You know the ones I am talking about. Green Lantern, The Flash, The Wonder Twins, even Captain Caveman. The ones who don't get much if any spot light but are in there doing work to make things better around them.
Having been in the kitchen and bath industry for over 23 years, I've come to the conclusion that the best kitchen and bathroom design experts are their own superheroes. I've watched, I've learned…I've even been the customer. What sets the best apart? While there are many to consider, here are 3 "super powers" that the best have and why they are important:
1)X-Ray vision. Okay, they don't really have actual x-ray vision. But, they do have the ability to see through vast portfolios of pictures from Houzz, pins from Pinterest, ideas for cabinets, appliances, countertops and much more to help pull it all together to find what you really like and help you create the kitchen or bathroom of your dreams.
2)Mental Telepathy. Relax. They can't actually read your minds. But they do know how important communication and staying in touch is, from offering up design and accessory ideas at the beginning to communicating schedules and changes up to the point of the project's completion.
3)They know their enemy. Whether it is an issue found in plumbing or behind drywall, a damaged product that gets delivered or something else, they know to expect the unexpected and help chart a course to get things done. It may not always be the route that was planned but they know how to get to the finish line.
If the kitchen is the heart of the home, then the bathroom is your (semi-)secret lair. And while you don't need an actual superhero to have a successful kitchen or bathroom remodel, you do deserve a designer who will help create spaces that bring warmth, comfort and a little fun when used on your own or with family or friends. Even Captain Reico would agree with that!
By Jim Grace