What do you say to someone who is getting ready to start a kitchen remodeling project? Whether we've done one ourselves or not, we've heard the stories. Our best, most optimistic selves will consider countless euphemisms to express our well wishes and inspiration. But just what exactly is the right thing to say?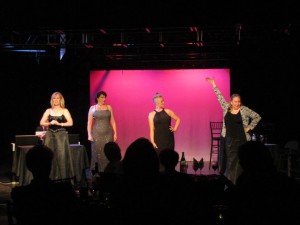 Take the expression "break a leg", the de facto expression used to wish a performer good luck. Saying that to LindaRose Payne, a veteran performer…and designer and key business manager at our Reico showroom in Bethesda, MD could work for her in any situation, whether she was getting ready to perform or not. She gets it. But "break a leg" as a well wish to someone remodeling? With the horror stories some people hear they may actually think breaking a leg might be better (Which by the way it is not! My son just broke his leg and that expression has forever changed in my mind. And you can be certain I didn't say to him "it's better than kitchen remodeling").
A quick Google search of ways to wish someone well brings up interesting suggestions but none that really give just cause to the excitement of a kitchen remodeling project. In fact, most almost imply impending doom. Every "Fingers crossed", "Best of luck" and "I hope everything will be alright" basically translates into "I hope you know what you are doing." when applied to your kitchen remodeling project.
The reality is that a great kitchen remodeling experience does not depend purely on luck. It is a partnership between client and professional that communicates regularly, asks a lot of questions, makes a lot of decisions and works together patiently to bring a kitchen remodeling project from idea to reality. Does it go perfectly every time? Rarely. And we certainly would never turn down a little bit of "luck" to go with any project. But with the right partnership you can be confident in the process to bring your new kitchen to life.