What does a kitchen remodel cost? Thankfully, that's not a million dollar question. But if we had a dollar for every time we were asked, "how much will my kitchen remodel cost" we might just be close to having a million dollars. The truth is, your kitchen remodel costs can be anything you want it to be. Here are 3 things that will have a big impact on your kitchen remodel cost.
First, define your definition of a kitchen remodel. On the less expensive end that could be new cabinet hardware, a fresh coat of paint on the walls (or cabinets for you ambitious few) or maybe even a new countertop to freshen up a drab, dated kitchen. It could also be that you are moving and want to make some changes to improve the resale value of the home. Be clear on your expectations early on so you don't get too charmed by the influence of remodeling shows and websites like Houzz that can quickly make your ideas for the kitchen bigger (as well as the kitchen remodel cost).
Second, understand that kitchen remodel costs will vary based on the size of your kitchen. A small kitchen design may see less cost on cabinets, countertops and even appliances if smaller, space-saving sizes are considered for the space. A larger kitchen remodeling project that involves moving walls or plumbing may increase spending in certain areas as well. Be careful though. You can find your kitchen remodeling costs growing quicker than you expected in any size kitchen. The National Kitchen & Bath Association identified that kitchen remodeling costs on average will break down as follows: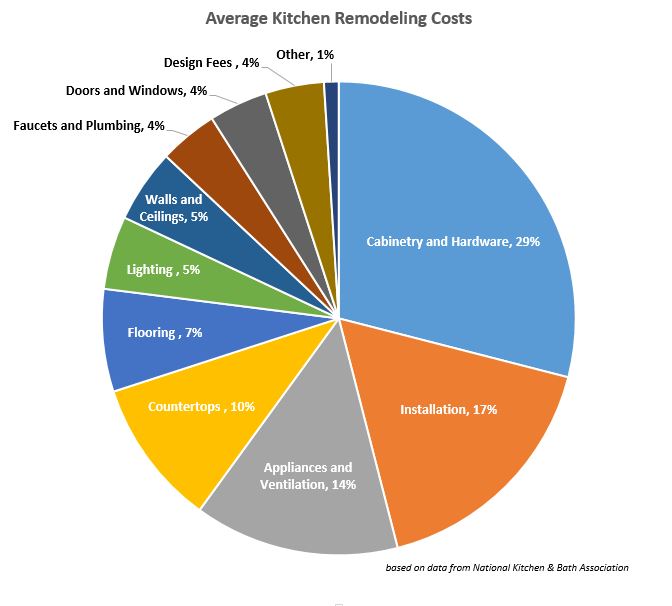 Third, and finally, consider your future. Is this your forever home that you plan to retire in? The longer you plan to stay in your home the better the chance your kitchen remodel costs will be higher. And the truth is, you should splurge a little on cabinets, countertops or appliances (or maybe all) to fully enjoy your space. If you don't plan to stay, then consider what makes the best sense for you and manage your kitchen remodel costs accordingly.
The long standing guide is that a kitchen remodel cost should be 5-10% of the home's value. Depending on how you define the above 3 things, your kitchen remodel cost could be below or above that or maybe just right in between. The choice is all yours.