When we decide to embark on a kitchen remodeling or bathroom remodeling project, it can all feel like a bit of a splurge. The reality is that for most of us, we may complete a kitchen remodeling project 1-2 times during our lifetime. The same can be said for bathroom remodeling.
So it is interesting to see that the one item customers like to "splurge" on the most in both kitchen remodeling and bathroom remodeling projects is the same. According to a Research Institute for Cooking & Kitchen Intelligence (RICKI) survey conducted exclusively for Kitchen & Bath Design News, the one item that clients like to splurge on more than anything else is countertops.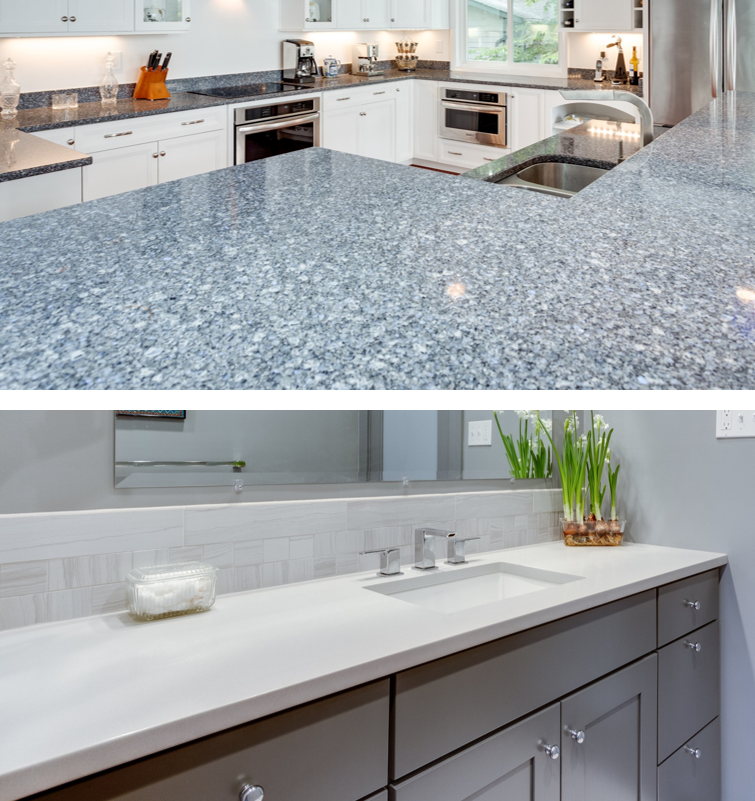 And why not? The countertop has many important roles. It is a main focal point in both rooms, pulling the space together to make it all work. At the same time the countertop has the difficult task of being the backbone, requiring durability and strength as it handles the bulk of the work load, all while trying to maintain its' good looks. The countertop tries to do it all by being functional and unique and making a statement in your kitchen or bathroom. And the smaller the space the more clients tend to splurge on countertops, where the visual impact can be even greater.
For the kitchen, it is where are eyes are constantly drawn to as the dividing point between the wall and base cabinets. Or as the focal point on a kitchen island. Maybe a smaller piece of butcher block or marble as a prep or baking station. In the bathroom, it is the landing space for everything that influences the look, feel and color of the entire space. For both rooms, engineered stone and quartz continues to be a popular choice for its selection of colors and ease of cleaning with granite not too far behind and still considered "the" choice, especially in kitchens.
And the splurge doesn't just stop at the type of countertop material. With a variety of other countertop related choices available, including decorative edges and full height backsplashes to make even more of visual impact on your space, the urge to splurge on countertops will always be strong.