Baseball and the world lost a legend with the passing of Yankees great Yogi Berra. An on field star, he helped take his New York team to 14 World Series, winning a remarkable 10 of them. But as brilliant as he was on the field, it was his commentary and quotes that endeared him to millions and millions of baseball fans and beyond. We've taken a few of his most well-known quotes to talk about kitchen and bath remodeling: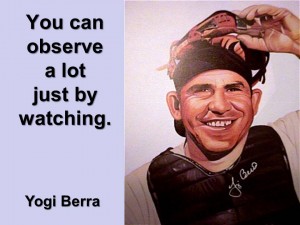 Yogi said: You can observe a lot just by watching.


Remodeling Translation: Do your research….on products, on styles, on companies. Talk to friends who are doing remodeling projects. Go online and create boards on Pinterest or Ideabooks on Houzz. There is a lot to consider in a kitchen or bath remodeling project.
Yogi said: We made too many wrong mistakes.


Remodeling Translation: Consider some professional help on your project. Avoid trying to do it all by yourself. You don't want to look back on your project and find you made the same mistakes repeatedly. It would be like déjà vu all over again...
Yogi said: A nickel ain't worth a dime anymore.


Remodeling Translation: Know your budget. If you have a nickel budget and dime tastes, you are in for a long and excruciating remodeling experience. Get an understanding of what kitchen remodeling or bath remodeling costs and what you should spend.
Yogi said: The towels were so thick I could hardly close my suitcase.


Remodeling Translation: if you find something you really like or want to splurge on, go for it! It can't be on everything, but if there are 1 or 2 things that you feel could really make your kitchen or bath remodel special, then go for it. The #1 splurge item for both kitchen and bath remodels? Countertops.
Yogi said: It ain't over till it's over.


Remodeling Translation: Your project will take some time. It could be a change you decided to make. It could be a door to be replaced or a final walk through to confirm everything is done. The good news though…you will know exactly when it is over.
If, as according to Yogi, baseball is 90% mental and the other half is physical than we can say with great confidence that the emotional rollercoaster of remodeling is 90% emotional and the other half is…emotional. With or without a good plan and a kitchen and bath remodeling partner, you will experience the emotional high and lows of your project. When you come home and see your kitchen or bath torn out it takes everything you got to keep that 140% of emotion in check. Take a breath. It might just be that proverbial "fork in the road". And according to Yogi, when you come to a fork in the road you take it.