We LOVE thinking about a new kitchen. Stainless steel appliances, granite countertops and a stylish grey or white finished cabinet for a trendy and lasting kitchen style and space. What we don't love – thinking about what kitchen remodeling costs. But with the right planning and considering, you can manage your project and your kitchen remodeling costs. Here are 3 questions to consider together at the start to help shape the kitchen remodeling costs for your project.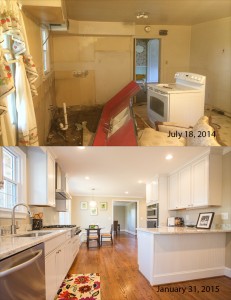 How long do you intend to be in the home?
Your kitchen remodeling costs should be impacted by how long you plan to be in your home. If you are planning to stay in your home, you may see this as an opportunity to create your dream kitchen which will have a definite impact on your kitchen remodeling costs. If only a few years or you are readying to sell, you should be more conservative with your project to keep kitchen remodeling costs down. This could be as simple as replacing a countertop, changing our hardware or putting a fresh coat of paint on the walls (or even cabinets). Depending on the home's age and your desire to increase its' marketability, you may need to go all in for cabinets, countertops, appliances and more. While this may increase your kitchen remodeling costs, it is often the difference between selling your home or not.
How much do you plan to spend?
The dreaded budget question but one that must be answered early to help establish what your kitchen remodeling costs will be. You can google "kitchen remodeling costs" and get a wide variety of answer, from 5-10% of the value of your home or more. Remodeling Magazine has a helpful resource that shows average project remodeling costs in most metro markets to get an idea of what kitchen remodeling costs are in your area, even breaking it down by major or minor kitchen remodeling. You can also use Reico's own kitchen estimator tool to get a ballpark range of kitchen remodeling costs for cabinets, countertops and appliances based on the size of your kitchen. And no matter what number you settle on, plan for unexpected costs as well along the way. There is always something…whether it is lurking behind those cabinets, floors and walls (bad) or is just that one thing you fall in love with and must have for your new kitchen (good).
What's in the scope of your project?
To get a better handle on your kitchen remodeling costs, determine what's going to be included. Consider all the options: cabinets, countertops, appliances, hardware, sink, faucet, tile backsplash, flooring, lighting, painting…even things such as new kitchen table, chairs or stools as current items don't match up to your newly remodeled space. You can really get on a roll as you get excited, and all of sudden your kitchen remodeling costs have increased as you have increased the scope. Want or need? Now or later? Must have or just a wish? It is helpful to understand all the possible costs to help you make your decisions. A new sink and faucet is pretty much a must when you do the countertop but maybe a tile backsplash can be added later.
By considering these 3 questions together, you can do a lot to shape what your own kitchen remodeling costs will be. Do your research, ask questions and get professional help to make the best decisions on the design, products and costs of your own kitchen remodel.
By Jim Grace