The care and details that go into preparing a Thanksgiving dinner are not unlike the care and detail that goes into planning a kitchen remodeling project. Cooking that Thanksgiving meal is a team effort of family and friends, just like planning a kitchen remodeling project is a team effort, bringing you and your designer together to create your dream kitchen. So just how alike is your Thanksgiving dinner and a kitchen remodeling project? We break down the main ingredients and what's on your "plate" for both…
Turkey – Cabinets
We all have our various ways of preparing a turkey, from the conventional (let's say traditional) to more "contemporary" ways of preparing such as deep frying. Want to go more eco-friendly? How about tofurkey? Multiple finishes you say? Try turducken. We're adding the gravy here too, in case you want to add a glaze or special look and finish to your turkey.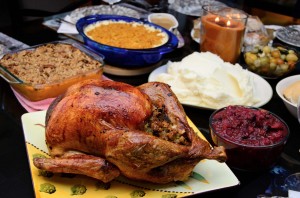 Dressing/Stuffing – Appliances
Maybe the next most important item on the table and in kitchen remodeling. How will you "dress" up your kitchen? Will it be with stainless steel appliances or will you go with a different flavor and look to black, white or maybe even a custom color to bring things to life. Because let's be honest, cabinets and appliances go together like turkey and stuffing.
Mashed Potatoes – Countertops
Countertops are the mashed potatoes of the kitchen. There they are sitting there looking so good…piled high waiting for the first spoon to dig in or smoothed out like a casserole. And then what do we do? We cover them….with gravy, with mushrooms, with turnips. And all of a sudden our countertops and our potatoes are a mess. Now for some that may be just the way we like it. But eventually we have to clean our plate…
Creamed Onions, Turnips, Mushrooms, Sweet Potatoes – Cabinet Accessories
Much like a good Thanksgiving meal, a good kitchen has an assortment of
to make using the kitchen a more enjoyable experience. We don't need a lot of them but just enough or the kitchen wouldn't feel right without them, much like a Thanksgiving dinner wouldn't feel right without a few smaller but essential to the meal accessory dishes.
Cranberry Sauce – Hardware
Cranberry Sauce is the little bit of fun on the table. Some like it out of the can and straightforward (think knob) while others go a little more non-traditional and make it on their own, which presents a variety of potential colors and flavors to it depending on how it is made. Hardware is the same, where you can go traditional and easy or spend some time working on it and find something different or exotic that really adds some flavor to the kitchen.
Sweet Potato Casserole – Faucet and Kitchen Sink
So maybe it's not as daring as pairing sweet potatoes and marshmallows together (seriously, who knew?) but pairing up your faucet and kitchen sink is essential in the kitchen. Most times they will complement each other but that can be done in more ways than ever today with a variety of faucets shapes, sizes, finishes and features. And while going hands free with your faucet can minimize germs and use less water, we don't necessarily recommend it for the dinner table.
What's left? Dessert of course. That's when you sit back and enjoy your completed kitchen remodeling project. Then the biggest decision becomes apple pie or pumpkin pie. You know what? We think you deserve a slice of both! Happy kitchen remodeling! And Happy Thanksgiving!