The word "modern" is hot right now. You hear it everywhere. And it shows no signs of going away. According to Sarah Reep, ASID, IIDA, CMKBD, CMG, CAPS and Director of Designer Relations and Education for Merillat Cabinetry, an increased in modern style requests from clients and by manufacturers has been noticed. With its' clean, crisp lines and simplicity, the modern kitchen style is always a favorite.
For every modern kitchen, the biggest influence on the space will be the door style. To help you get started, we've identified 3 door styles that can help you create your modern kitchen.
Shaker - flat panel door and 5 piece drawer front Taylor Swift may have asked us to "Shake it off" but when it comes to creating a modern kitchen, you can't shake off the shaker style. The clean, crisp lines and look of the shaker door style maintains a relative simple look, perfect for any modern kitchen. A 3" wide style and rail is the most modern style direction. According to Sarah, be sure to look at both solid wood center panels and veneer flat panels. A veneer flat panel may save you money but you don't want it to be at the expense of the appearance of the door.
Slab door and drawer combination Slab door and drawer combinations with no style detailing can be affordable and offer a great surface for personalizing…most often with that favorite decorative hardware you know would look perfect. With a smooth finish and no trim or detailing, the only thing that stands itself true to the simplicity of the modern kitchen style.
Full overlay Regardless of whether you choose a shaker, slab or other door, if a modern kitchen is your inspiration then in all likelihood you will be selecting a full overlay door. A full overlay conceals most or all of the cabinet frame or box (if you go frameless), giving your modern kitchen a more continuous look that invites a sharper, more sleek look and feel with the same minimal detailing that is the essence of the modern style.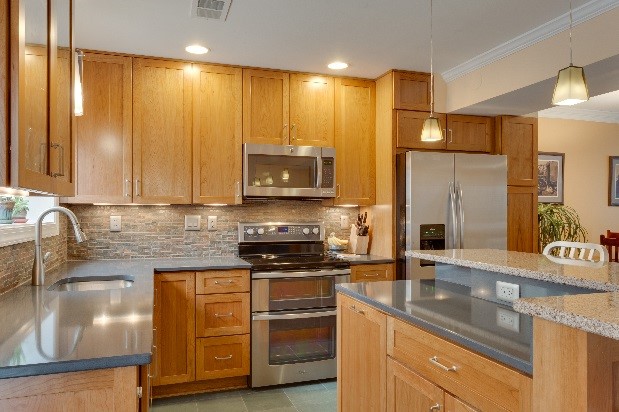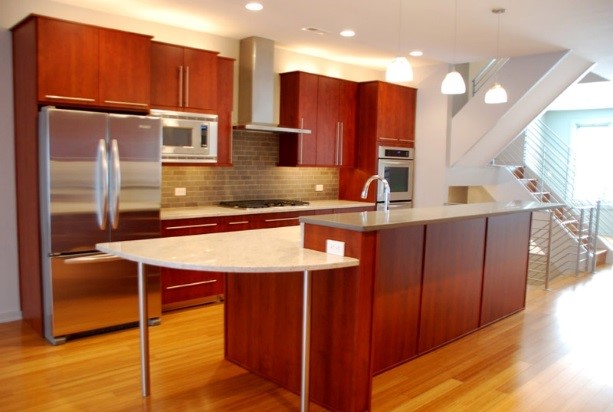 Once a cabinet door style has been selected, there is still work to do to create your modern kitchen. According to Reep, when it comes to fixtures and appliances, some models are preferred. "
An under-mount sink is preferred to a drop-in model because it's more practical and hygienic." It also maintains the smooth, clean look of the countertop and entire kitchen. Reep adds, "Stainless steel appliances are usually chosen and they also usually feature similar finishes and designs. This detail helps with the overall décor that needs to be minimalist but still cohesive and stylish"
The modern kitchen is a sharp, sleek kitchen. Choosing the right cabinet door style will help you get started on creating the modern kitchen (and new kitchen) of your dreams.