When it comes to colors in the home, we all have our own vision for our kitchen and what that should look like. From countertops and appliances to walls and floors and everything in between, we have a feel for what the space should look like.
So, about that "everything in between" comment…yes, we're referring to your kitchen cabinets. With the timeless popularity of white and a surge in variations of off-whites, neutrals and greys, the cabinet color (or colors) you choose often sets the tone for the entire kitchen.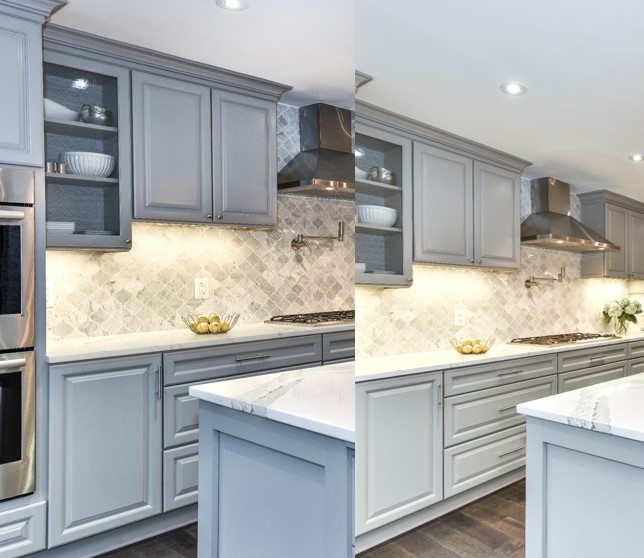 But when is the color not the color? (Huh?) Sarah Reep, ASID, IIDA, CMKBD, CMG, CAPS and Director of Designer Relations & Education for Merillat Cabinetry introduces to the world of "metamerism", a phenomenon that occurs when colors change when viewed under different circumstances, like light sources. What looks one way in natural sunlight may have an entirely different look when subjected to the variety of lighting found in a home.
Take painted white cabinetry. According to Reep, many simple things can dramatically affect the appearance of a white – the type of lighting, the time of day, appliances, even the reflection of surrounding product furniture will make even a pure white appear differently to what you first saw in a showroom. Painted finishes are typically the most suspect, as the solid color can offer much deception. A color such as Merillat's Mushroom finish, a solid painted finish, can look very different based on the lighting above it as well as the angle from which it is viewed.
So what can you do to get a better understanding of the true colors in your kitchen? Here are 4 tips for viewing cabinets in the right "light":
Review all finish colors together - this includes your kitchen cabinets as well as complimenting materials such as tile, countertops, wood flooring and wall paint.
Review all the materials in different light sources.
Review all the materials at different angles.
Review all the materials at different times of day.
For all of these tips repeat, repeat and repeat again as necessary or until you are comfortable. The phenomenon of metamerism and changing colors is almost inevitable. The more you understand the more you will know what to expect.