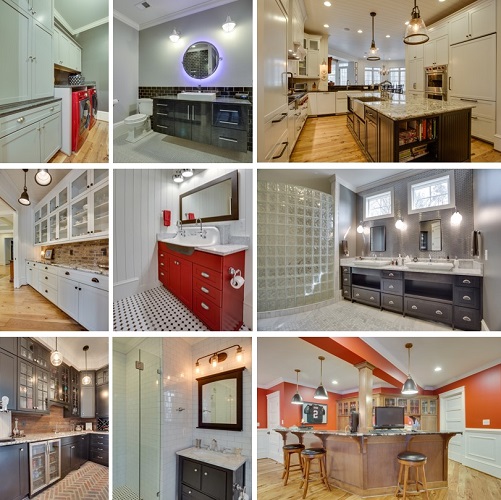 For many of our projects, we get the opportunity to focus on one room at a time. The kitchen. A master bathroom or a hall bathroom. Throw in the occasional wet bar, laundry room, guest bath, butler's pantry and well…you get the picture.
But then there are those projects where you get to do it all. And all at once. Where the design juices really get to start flowing, and inspiration can change from room to room. Scott Schunk, Key Business Manager and design specialist for Reico Kitchen & Bath's Builder Division, knows firsthand what that is like. Partnering with Sorensen Construction, they designed 9 areas of recently built home in the Herndon, VA area.
Starting in the heart of the home, they created a Farmhouse Country Chic inspired kitchen featuring a combination of Merillat Masterpiece cabinet door styles and finishes. The perimeter cabinets feature the Martel door style with a Dove White painted finish and the island cabignets feature the Marsett door style with an Onyx painted finish. The countertops are coordinated as well, with Antique Brown granite on the perimeter and Blanco Antico granite on the island. Additionally, an element of natural beauty was added by the builder through the use of rustic pantry doors on the edge of the kitchen.
What else was done in the home? Here is a quick overview:
Butler's Pantry in Merillat Masterpiece Martel Dove White cabinets with a Royal White granite countertop.
Family Room Bar in Merillat Masterpiece Martel Onyx cabinets with a Bianco Antico granite countertop.
Laundry Room in Merillat Masterpience Martel Pebble Gray cabinets with a Virginia Mist granite countertop.
Master Bathroom in Merillat Masterpiece Martel Slate cabinets with White Carrera marble countertops.
Basement Bar in Merillat Masterpiece Martel Cognac cabinets with Titanium granite countertops.
Kid's Bathroom in Ultracraft Cabinetry Adriac Black Maple Thermofoil cabinets with Starry Night granite countertops.
Guest Bathroom in Ryvyr Kent Brown Ebony cabinets with White Carrera marble countertops.
Hall Bathroom in Merillat Masterpiece Cardinal Red cabinets with White Carrera marble countertop.
Given Scott's experience in the industry, he embraced the creative opportunity that a project of this size brings. "It is always a privilege to get to work in someone's kitchen, which is the heart of their home," said Scott. "To get to work throughout the home and help bring a client's bigger dreams to life makes it even more special."