When it comes to kitchen remodeling, we want you to feel lucky…like you've hit the jackpot, being finally able to remodel and bring your dream kitchen to life. So this Friday the 13th, let's embrace a lucky 13 kitchen design ideas to help you create that dream kitchen of yours. Put away the ladders, mirrors and black cats and let's focus on what's going to inspire your new kitchen: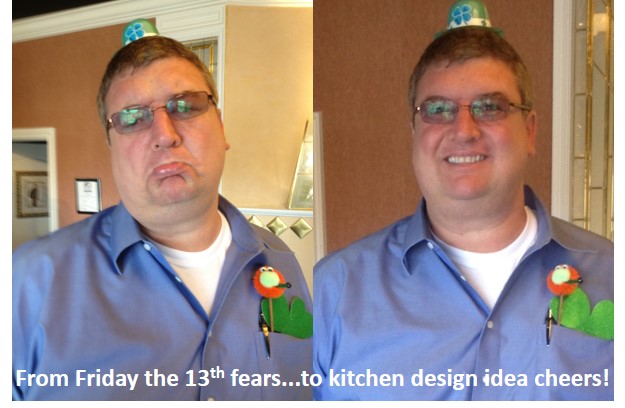 1. Transitional in style! Fuse traditional and contemporary together to create a clean, streamlined look in any kitchen.
2. Counter your fears! Granite still rocks, but more and more are going to quartz countertops for its colors and its performance.
3. Go Bar-downski! Score big in more than hockey terms with a bar area for traditional beverages or even a coffee station for that any time of day (coffee) fix.
4. It "wood" be nice! Wood flooring remains the popular choice in kitchens. Add warmth and texture to a room with a variety of colors and plank widths.
5. Go deep…drawers! Storage is the name of the game in the kitchen and deep drawers can accommodate almost anything you use in the kitchen.
6. Pull out accessories! Stop bending, stooping and stretching to find what you need in the kitchen. Pull accessories like roll out trays, drawers and sliding towel racks bring it right to you.
7. LED to light things up! Bring light, safety and energy savings into the kitchen with long lasting LED lighting for both general and task specific needs.
8. An Island worth being stranded on! When the space is there, a kitchen island can transform a kitchen and create a focal point where you can socialize, prepare food and more.
9. Garbage in, garbage out…of sight! Trash & Recycling centers are a must have in today's kitchen, offering anywhere from single trash bins to multi-bins to handle trash and all types of recycling materials.
10. Get plugged in with a charging station! Dedicated areas for phones, tablets or other devices allow you to thoughtfully enjoy music, news and more without interfering with your working space.
11. Gray & White is alright…in the kitchen! A common superstition says that sudden fear or shock can turn hair white. We suggest considering white or gray finishes instead to consider (it beats hair coloring).
12. Microwave drawers show you what's cooking! These waist level pull out drawers safely let you see what's cooking instead of reaching up above your head hoping its' done and without spilling.
13. No moans over Two tones! Whether it is two cabinet finishes, two countertop finishes or both, adding multiple finishes to a kitchen can create the unique look you are going for.

So channel your general fears of Friday the 13th (don't be a paraskevidekatriaphobiac!) into positive thoughts about kitchen design ideas for your new kitchen. Using these 13 kitchen design ideas, start creating the kitchen of your dreams and take the real fear out of kitchen remodeling.