Working with a variety of clients, you invariably connect with someone you know or that knows you. But what happens when someone finds you after 20 years? Patty Whitman, AKBD, a Kitchen and Bath Designer for Reico Kitchen & Bath and a former military wife, knows firsthand.
The first part of the story is familiar. Living in the same community (in this case Staten Island, NY). Kids growing up. Things change. Families move. Christmas cards become the only update. Another move and all of a sudden…contact lost.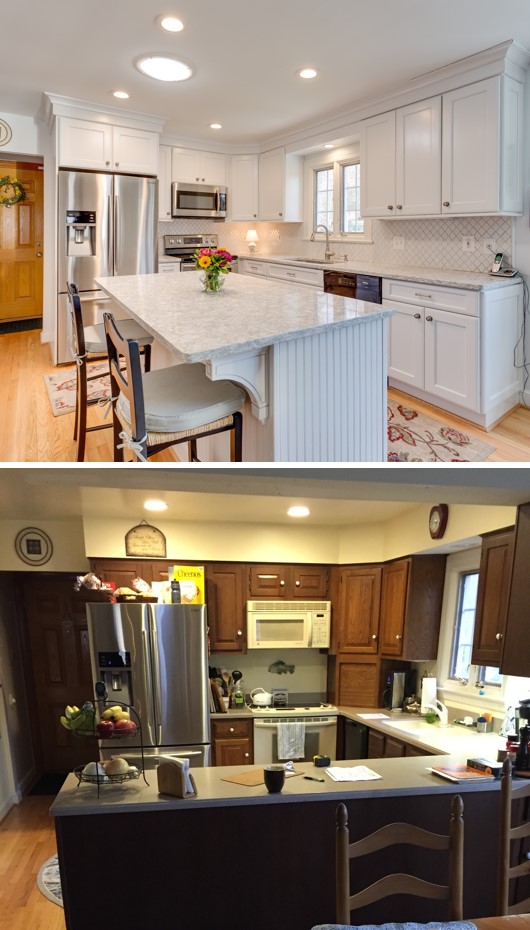 But it's a different world today. We google. Everything. Then a phone rings…Patty, its Karen. How ARE you? I'm living in Northern Virginia now, and I see you are at Reico Kitchen & Bath and in this area too. I need a new kitchen. I googled you and...there you were.
After an hour of catching up, Patty and Karen quickly set up a meeting at her home. Reunited after so many years, they dove right into a new kitchen design. The goal was to enjoy a new remodeled space for a few years before selling and retiring to North Carolina. Karen and her husband Mike's Alexandria, Virginia home, located just down the street from George Washington's historic Mount Vernon residence, had a dark dated kitchen with a peninsula that functioned well when their adult children and grandchildren were over. Karen knew she wanted a white kitchen with light tile to create a brighter cottage feel.
After much conversation, Patty convinced them to add an island, to update and open up the space. Mike recently took up cooking (much to Karen's delight!) and found the island concept helped bring useable counter space to a more convenient location. They chose the quartz product Cambria in the color Berwyn, a perfect surface to work on with a great pattern for the space.
Karen had an aversion to a strict subway tile for the backsplash since it reminded her of the New York Subway. Given that the housing where both Karen and Patty lived 20 years ago was literally under the Verrazano Bridge, both were completely on the same page! In the end, they chose a lantern pattern for the backsplash which added a fresh feel and some geometric interest to the space without being too busy.
Patty brought in Brian Sperty LLC to assess the project. He quickly joined Reico, Karen and Mike on the project, and became fast friends as well. Mike and Karen loved all the folks associated with Brian's team and appreciated their craftsmanship professionalism and attention to detail.
The joy of a reunion had a small touch of sadness to it, as Patty knew this was just another step for Mike and Karen to get closer to their North Carolina retirement plans. She knows it is well earned though, and is grateful to both for their years of military service, civilian service and friendship. And you never know…with 3 of Reico's 22 locations in North Carolina, the idea of another project together is never too far apart. Right Google?