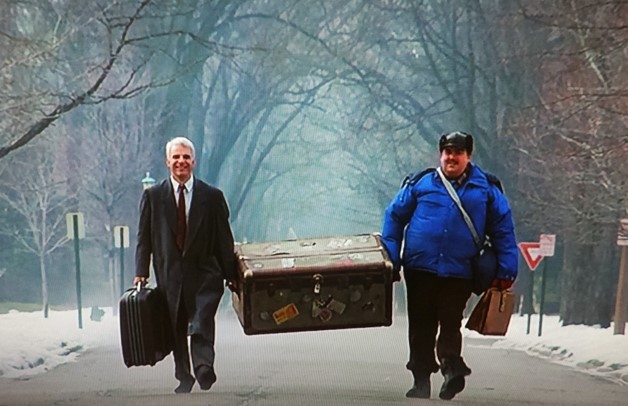 A remodeling project is a lot like a trip. A looooong trip. You know where you are. And, for the most part, you know where you want to get to (albeit with a little professional help); and you have a lot of choices in how you get there. The key is figuring out the journey.
One of my very favorite movies during the holidays is the 1987 classic "Planes, Trains and Automobiles", starring Steve Martin and John Candy. Often overlooked as a "holiday" movie since it is about getting home for Thanksgiving, its journey is a message equal parts fun, frustrating and heartwarming.
In many ways, a remodeling project is a similar journey. Part fun as your explore new ideas, products and solutions that you never considered. Part frustrating as you consider budgets, time lines and all the decisions being made. And part heartwarming, as in when it all comes together it is the heart of your home (think kitchen) or your getaway spa space to rejuvenate (think bathroom).
Remodeling requires a lot of you. In Planes, Trains and Automobiles speak…a little less Neal and little more Del. The Steve Martin Neal Page character is your classic control freak. If that sounds like you, prepare to relax a little bit more than you are used to and recognize that you can't be in control all of the time. Enter John Candy's Del Griffith. Part chatter box, part salt of the earth, his ability to connect with almost everyone serves him well, in good times and in bad.
And in the end, isn't that what remodeling is all about? Giving up some control. Making decisions. Enjoying the ones that work out and dealing with the ones that don't. Working toward the bigger goal. Even if the path is not always clear and you feel like "you're going the wrong way", trusting and believing in others around you will almost always get you to your final destination. (just make sure you know where the pillows are)
A remodeling project can be a stressful thing…the disruption of routines, the people coming in and out of your house, the constant mess. Sounds a lot like the holidays, doesn't it? But, if you can strike a balance between your inner Neal Page and your Del Griffith, you might just be setting yourself up to have a successful and, dare we say enjoyable to look back upon, remodeling experience.