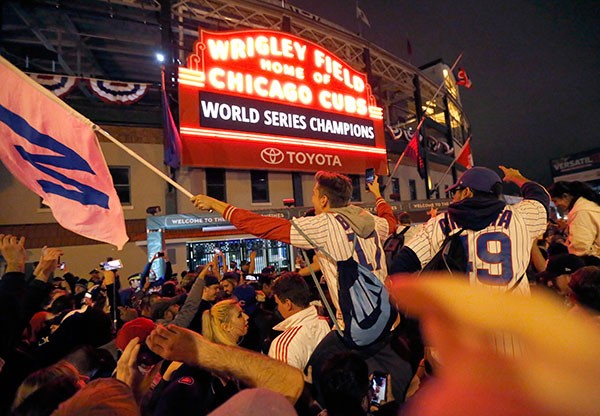 For the first time in what feels like a very looooong time, a large part of the country came together last night. It started early this morning, in Chicago, where baseball's Chicago Cubs won their first World Series title since 1908. It was a feel good moment that most of the country could enjoy (sorry Cleveland but we really, REALLY needed this). The Cubs put it all out there and did not hold anything back to bring home a championship for the first time in over 100 years.
That being said, getting to that championship had it's' ups and downs. Be it in decades, years, seasons, games…the Cubs experienced it all to achieve the ultimate goal. And if you are wondering how remodeling your kitchen or bathroom can be compared to the Cubs winning the world series, here are 3 tips you can take from the Cubs historic journey to help you create your own championship remodeling experience:
1. Be in it for the long haul - now we're not talking about 108 years here, but we do think you need to set realistic expectations when getting started to have a successful remodeling project. Depending on the scope of your project, your remodeling "season" could take days, weeks, months or even in some cases, years. Put together a realistic timeline for achieving your remodeling goal.

2. Decision-making - how many times did we see Cubs manager Joe Maddon analyzing that folded piece of paper, knowing every decision made affects everyone and everything involved? The same is true for kitchen or bathroom remodeling. Collect and use your data wisely and know the impact of your decisions. Just making an appliance selection can affect a kitchen in multiple ways – size, color, shape, location, etc. Consider all the options to make the best possible decisions during your remodeling project. And don't forget those professional coaches (err, Reico designers) whose expertise you can always call on without having to go to the bullpen phone.

3. Adjust on the fly for the unexpected - when the rain came down and delayed last night's game, the Cubs Jason Heyward called the team together for a quick meeting. I mean, no one expected them to blow a 3 run lead with the star closer on the mound. Things will happen on a remodeling project. Strong communication, even under the most challenging of circumstances, can quickly right the situation.
Most importantly, when it is all said and done, be sure to enjoy the win. It may not be all champagne and goggles (please, we just had the space remodeled)…and it may not be a whole city, state, country celebrating with you. But for a project most people may only do once in your lifetime, it still feels pretty darn good.