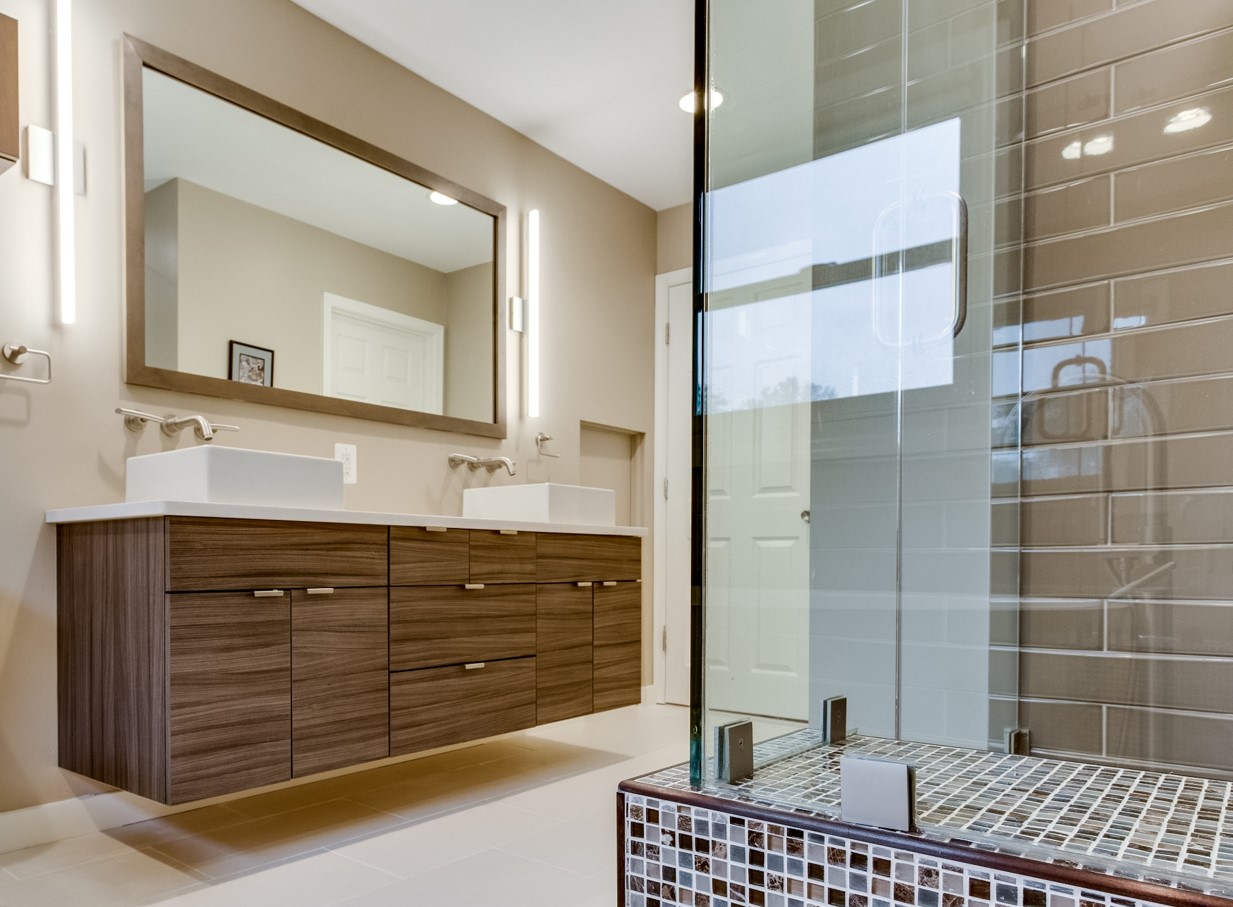 We are always looking for more space (or at least the illusion of it), and no where is that more evident than in the bathroom. Yes, you have endless choices in bathroom cabinets, cabinet accessories, space saver toilets…the list goes on and on. But trying to create a relaxing, organized and spacious feeling environment in the bathroom is tricky when you don't have always have a lot of room to work with. One way you can consider to help compensate for that is with floating vanity bathroom cabinets.
Now, we are not talking about some magical bathroom cabinets that actually float but rather a stylish, modern consideration for your bathroom that at the very least can help create the illusion of more space.
Determining if a floating vanity is right for your bathroom design
So, how do you determine if going with floating vanity bathroom cabinets is the right choice for your new bathroom design or bathroom remodeling project? Style is a huge consideration here, but you also still must consider the entire space, the clearance you have around cabinets, doors, etc., where the plumbing is located, faucet mount location and even the weight of your countertop if you are seriously considering a floating vanity. According to Cathy Quering, designer for Reico Kitchen & Bath in Falls Church, VA, "Most clients considering floating bathroom cabinets already have a look in mind that is clean, sleek and very modern which is the perfect match to a floating bathroom vanity." Still not sure? Here's a list of "pros" and cons to help you decide whether floating vanity bathroom cabinets are a serious option to consider:
The Pros of a Floating Cabinet in the Bathroom
•Can make small bathrooms (or any bathroom) look bigger by creating the illusion of increased space. Creating an open space below the bathroom cabinets allows for light to move throughout the bathroom. We associate that light with more room in the space we are in.
•Can provide additional exterior storage space typically lost by the toe kick area of a traditionally built cabinet…or just a convenient space for your favorite slippers.
•Creates a sleek, stylish and less cluttered modern look and feel to your bathroom.
•Open access underneath leaves dirt and germs fewer places to hide in the bathroom and can make cleaning up an easier task.
The Cons of a Floating Cabinet in the Bathroom
•Should require professional installation to make sure it is properly fastened to the wall. This may mean that a steel or similarly strong support frame is required to support and is critical in order to create a safe space for everyone to use, particularly children or elderly.
•Requires that the entire bathroom floor be finished and not just installed up to the bathroom cabinets toe kick and sides.
•Floating bathroom cabinets do not work well in more traditional style homes or spaces.
•Interior cabinet storage can be comprised by the sleek design and/or how much space a sink may take up, and should be taken into careful consideration particularly if your vanity is the only storage option you have for your bathroom.
A floating vanity is not for everyone
Even if your style is modern or contemporary, floating vanity bathroom cabinets are still not for everyone. Consider all your space and storage needs, the product needs of the entire bathroom, who will be using the bathroom and what your priorities are for designing a bathroom and selecting the best bathroom cabinets.
And if you do decide to go with the "flow", get ready to enjoy a sleek and stylish new bathroom. We see the popularity of floating vanity bathroom cabinets staying afloat for many years to come.