We're down to the Sweet 16 of NCAA basketball's March Madness. Every decision, every play, every result hinging on other decisions, plays and results. While many teams are evaluated by their overall depth, it is typically the starting five that sets the tone for the game and the success of the team. Working together, a Center, 2 Forwards and 2 Guards can successfully lead the entire team to victory.
When it comes to remodeling, this "starting 5" of projects to consider might surprise you. Some are obvious with perhaps a couple you have not yet considered. And now, Ladies and Gentleman, let's hear it for our starting 5 remodeling projects for your home.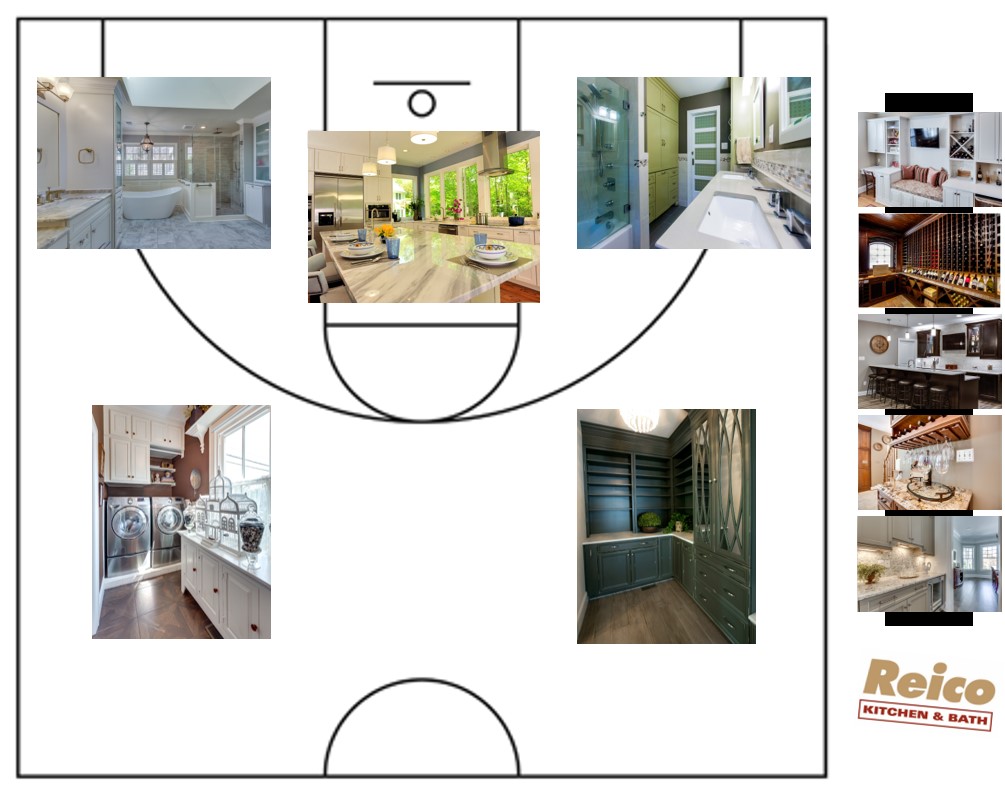 At Center…The Kitchen
An obvious choice. The heart of the home. The place where everyone gathers. Where many of the plays of family, friends and life are called and run. Any good basketball team has a Center that can do it all, from pass and dribble, to shooting and defense. The kitchen is no exception. From cooking and meals, to homework and entertaining, the kitchen is the center of it all.
At Power Forward…The Master Bathroom
A power forward can dominate the game, adding style and tempo and while taking control to deliver key baskets when needed. The Master Bathroom offers the chance to take similar control…of your day. A well designed, stylish, spa-like master bathroom sets a tempo where you can escape the madness of your day to rest and rejuvenate…scoring big points for you in and out of your home.
At Small Forward…The "Other" Bathroom
A small forward gets asked to do a lot in a game, embracing the hard work of supporting the team in many ways. Your "Other" Bathroom is no different. Part Kids' Bathroom, part Guest Bathroom, part Hall Bathroom, part Everyone's Bathroom, this space fulfills many different roles, often playing multiple roles at the same time. It is the consummate "team player" and its' value and versatility cannot be ignored.
So you are probably wondering…what's left? Well, you might be surprised at what fills the back court and the last 2 spots of our starting 5 of remodeling projects.
At Guards…The Laundry Room and The Mudroom
Whaaaaaaaaaaaaaat? It's true. These once hidden and forgotten rooms are taking over a bigger role in most every home. The Laundry Room and the Mudroom are key facilitators to running plays in every room of the home. And the more you personalize it to your needs and the rooms around it, the more you get out of your entire team. So it is very important to determine the fit and function needed. Most often, it will be around storage and countertop space. Budget wisely! You may not need that expensive countertop when there are other, more affordable surfaces that could easily make the cut. Shelving and open storage or baskets are a more affordable option compared to an entire run of cabinets. And if you are remodeling your kitchen, you may be able to repurpose some cabinets for use in either space.
While remodeling The Laundry Room and the Mudroom may always be the less glamorous choice when looking at your starting 5 of remodeling projects, there is no denying the impact it can have on your own team and the other rooms around it. While it is easy to get drawn into the higher profile positions of the kitchen and bathrooms, setting up a strong back court solution for your laundry room and mudroom can help you win at every position, err room in the home.
P.S. Some pretty strong bench strength too for even more remodeling ideas.