Forget the selection shows and the wondering about seeds, who is in and who is out. Kitchen and bathroom remodeling clients now have a new source for the complete line of Kohler line of products. Reico Kitchen & Bath has partnered with Kohler, bringing you a bracketful (and then some!) of Kohler products for the kitchen and bathroom to help you find exactly what you are looking for to complete your kitchen remodeling and bathroom remodeling projects. And unlike March Madness, you can pick as many winners as you like from the Kohler line up of products.
Founded in 1873, the Kohler name today is recognized in bathrooms and kitchens around the world. In the bathroom Kohler offers an array of choices, all with distinctive style and uncompromising performance. Find options for bathroom sink faucets, bathroom sinks, toilets, toilet seats, bath tubs, showering, vanities, medicine cabinets, mirrors, water-saving options and bathroom accessories to help you complete almost your entire bathroom project.
Kohler brings a whole new meaning to the term clean in the bathroom. Kohler toilets are designed to be clean in every way. From their clean appearances to their clean flushes, Kohler believes there is no such thing as too clean. Their touchless technology lets you flush with the simple wave of the hand, leaving germs behind in their place. And with their smooth, sleek lines they wipe down easier to help you maintain a cleaner bathroom.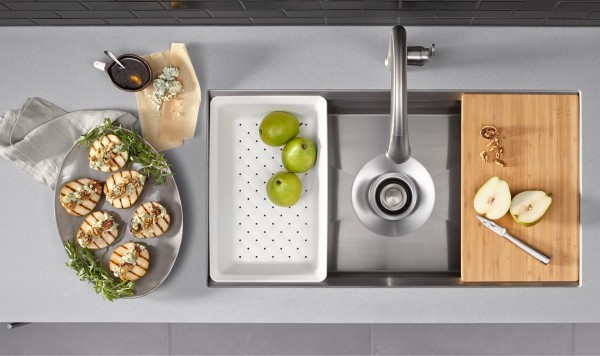 In the kitchen Kohler helps you to discover your duo. The teamwork of your sink and faucet that is. This hardworking pair handles a lot. Find options to create harmony and make kitchen tasks easier than ever. From sleek and streamlined to vintage style, there's a perfect combination for every kind of kitchen. And don't forget the others areas of the home where the sink and faucet partnership can make a difference. The bar, the laundry room. Kohler offers a team of choices for both of these rooms to create a winning combination for any space.
Kohler's Prolific Sink is just one example of how you can score with efficiency in the kitchen. This 3 level stainless steel sink incorporates (and includes) options for a colander, grated racks, a wash bin and bamboo cutting boards, working individually or as a team to help you work the way you want at your kitchen sink. And, playing at the "center" of the lineup, Kohler's Sensate touchless faucet offers an easy-to-use hands free faucet to keep you running the plays without causing any turnovers (or messes).
March Madness will come and go, just like it does each year. But the madness of finding the right products for your kitchen and bathroom projects just got a little bit easier, thanks to a new team in town. The bold look of Kohler. The expertise and world class service of Reico Kitchen & Bath. A winning combination that can help you unravel the madness of kitchen and bathroom remodeling and score the best in product combinations to make your kitchen or bathroom the space you've always wanted it to be.