In small rooms, storage space is a premium -- and most bathrooms do not have enough of it. Decrease clutter and maximize your powder room, hall bath or any bathroom with these 8 elegant storage solutions for bathrooms.
One of the things that makes a difference between a great bathroom and its difficult-to-use counterpart is storage and the allocation of space. You need enough room to turn around, hang towels, brush your teeth comfortably, step from the shower without bruising something. And you definitely don't want to feel crowded when you're on the throne. This isn't an airplane, folks; knees should have freedom.
Even though space is at a premium, you still need a place to store towels, TP, toiletries and other bathroom supplies. So the question becomes … how? How do you create effective bathroom space, even in a small bathroom? We recommend:
Open shelves
Vanities instead of pedestal sinks
Tall linen cabinets
Recessed cabinets
Hooks, racks, and towel bars
Placing shelves closer together
Compartmentalizing under the sink
Installing corner sinks
1. Open Shelves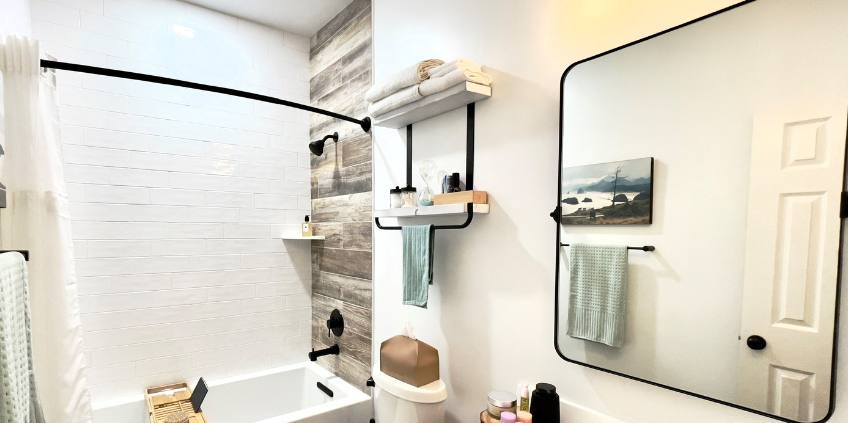 Open shelves have transformed kitchens, so why not try them in the bathroom? They could be the ideal storage solution for stacks of towels, everyday toiletries, or candles and plants that add ambiance. Shelving above the sink works well for everyday essentials, shelving near the toilet is the perfect spot for extra TP, and shelving on the wall offers multipurpose storage.
Near the sink and shower, consider glass shelving. Not only is glass airy and clear, it won't get harmed by splashes of water. Wood shelves work well in other parts of the bathroom, where they won't be exposed to water.
2. Vanities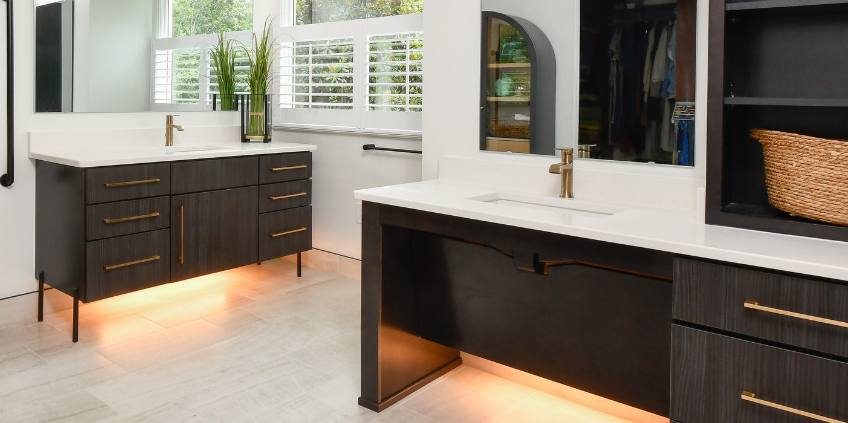 If your bath has a pedestal sink with no storage underneath, swap it out for a bathroom vanity and attached sink to gain counter space and multipurpose storage solutions. Vanities these days come in all shapes and sizes, so you're sure to find something even if your bathroom is tiny. Ideally, you will have space for something with shelves and drawers that let you store a range of items out of sight.
3. Tall Linen Cabinet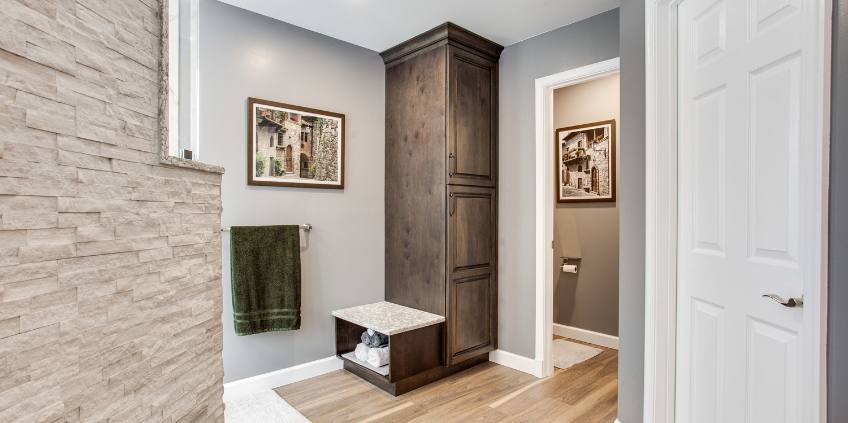 To complement your vanity and extend storage space in the bathroom, consider a tall linen cabinet. Choose from floor-to-ceiling models that look like they were custom-made for your bathroom to 7-8' tall varieties that store most of your everyday needs. While almost all linen cabinets have shelves, you can find varieties with roll-out trays or tilt-out hampers that aid in combating laundry clutter. You will also find shallow linen cabinets if you are worried that your bathroom is too tiny to support a full-depth cabinet.
4. Recessed cabinets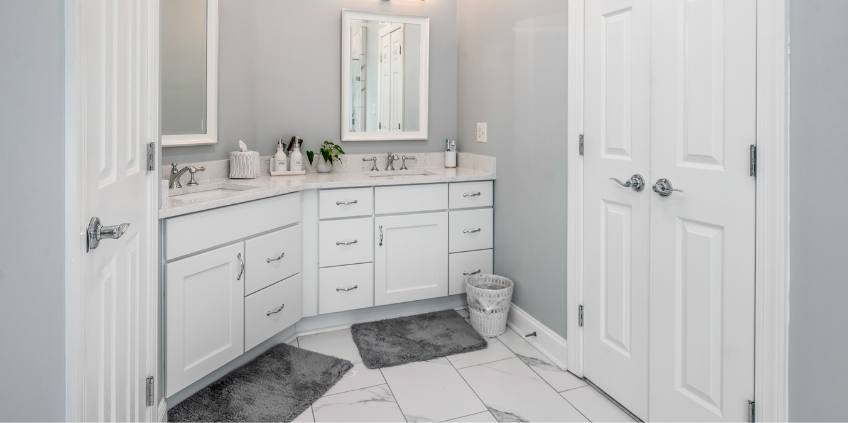 A stylish recessed medicine cabinet easily stores items without extending into the bathroom space. Combine it with built-in outlets and you will be able to move electric toothbrushes and shavers off the counter.
In the shower, a recessed storage cubby provides plenty of space for bath products, so you can clear the clutter from the edges of the tub.
While these solutions are great for small bathrooms, where every inch is premium, they also work well in bath remodels by adding contemporary features to the powder room -- which can help it appeal to the next generation of home buyers if you're remodeling with a plan to sell.
5. Hooks, Racks, and Towel Bars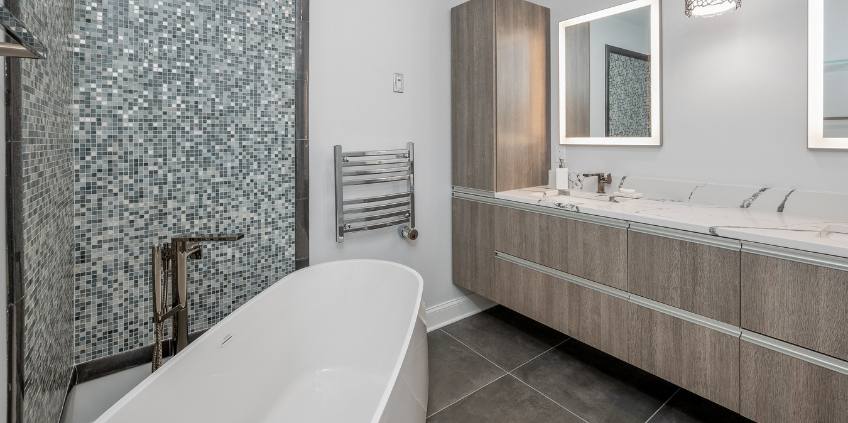 Hooks, racks, and towel bars contribute style to your bathroom while offering easy places to hang towels and bathrobes. Racks and hooks in any color, shape, or size let you show off your personality and complete the look of a renovated bathroom. Renters who need more storage space but cannot make permanent alterations to a bathroom can try over-the-door racks or ladder-style towel bars.
6. Place Shelves Closer Together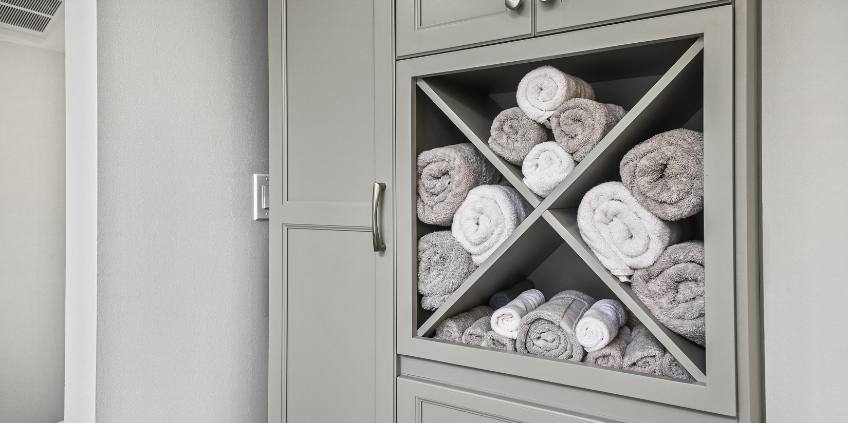 You'd be amazed at the amount of space wasted due to shelf spacing. Think about it: If your shelves are a foot apart but your toiletries are on average 6 inches high, you're wasting half a foot.
Consider placing some shelves only 6-7 inches apart, then storing toilet paper and short toiletries on that shelf. You can place taller toiletries (hairspray, shaving cream) on a taller shelf with a stack of towels. The best bet is to place shorter shelves on top, where you can see into narrow spaces more easily, and larger shelves on the bottom.
7. Compartmentalize the Space Under the Sink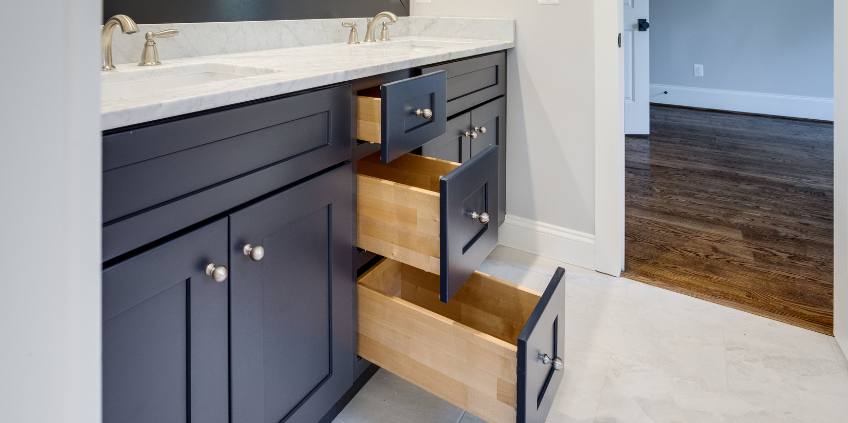 One giant space under the sink doesn't make the most of your space. A better bet is to add shelving or drawers to the cabinet where possible. Drawers really help; you can easily pull them out for access to your goods without tweaking your back.
You can also further divide the shelves with caddies and other organizational products to create even more bathroom storage.
8. Install a Corner Sink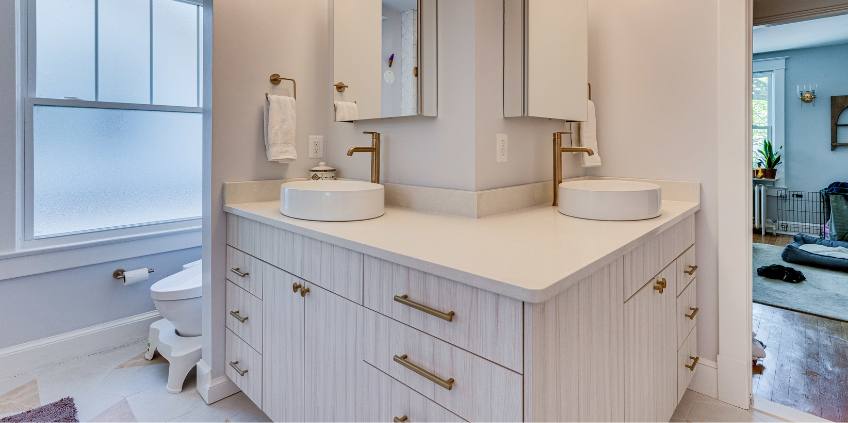 In small bathrooms – and really, bathrooms of any size – corners often get wasted. You can't put much in them aside from a plunger or one of those tall toilet paper storage pieces.
Instead, make much better use of this nook by installing a corner sink. That way, you free up the wasted square footage that typically surrounds pedestal sinks. You can build cabinets off the side of the sink or place them underneath. Either way, ditch the pedestal … and gain the storage.
Gain inspiration for your bathroom remodel and find the perfect storage options for your own bathroom when you visit one of our Reico Kitchen & Bath showrooms.