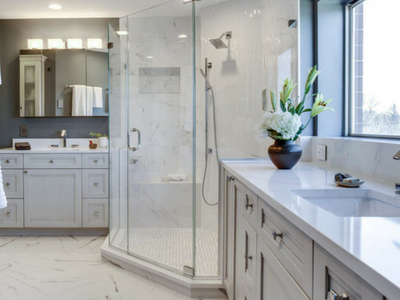 When you look at your bathroom, do you go "blah?" Maybe you're not too excited about the boring old decor you've seen every single day in there for years. But you spend a lot of time in your bathroom - getting ready, showering, and you know, doing business.
It's about time that you gave your bathroom some TLC. And you've got to start somewhere. A bathroom redesign can seem overwhelming. Spark some ideas by going over what's trending in bathroom design right now.
Accent Walls
In older bathrooms, you've got a tile wall, a tile wall, a tile wall...break out from the norm by adding an accent wall to your bathroom.
Create a focal point for the entire bathroom by adding an accent wall. You can make it a different paint color than the other walls, or you can add a material like wood or stone. An accent wall adds depth to any bathroom, especially when you add texture with different types of materials.
Dramatic wall accents are trending, and aren't going away any time soon. If you're going the paint route, you can even consider adding a graphic to the wall.
You can also experiment with accent floors. Adding graphic tiles to your floor space creates intrigue and a unique element that helps spice up the area. As a bonus, adding a few simple tiles to your floor is budget friendly.
Underfloor Systems
You can ditch those slippers. Underfloor heating systems can be added to the floor under your bathroom to make your toes feel nice and toasty even in the coldest weather.
These systems can be used with whatever flooring option you want - wood, vinyl, tile, and more.
The heating doesn't end at the floor, either. You can get warming drawers you can use to keep your robes and linens heated, so when you step out of the shower you won't have to be cold for a moment. Bathrooms are getting smarter. Gadgets and tech in bathrooms, like wireless music systems, is on the rise.
Bigger Isn't Better
If you think you can't have a dream bathroom because you have a small space, think again.
Energy efficiency is a trend that's here to stay, and smaller bathrooms are naturally more efficient. All you have to do is use the real estate that you have available efficiently. Cozy spaces feel more welcoming in general. You can get a new sink bowl and design it specifically to be geared toward a smaller bathroom, a simple step that can make a huge difference.
Scaled down bathrooms use free-standing tubs and shelving instead of large vanities. Accent walls or accent floors increase the look of a bathroom space without taking up any room.
Vanity Lighting
Lighting is arguably the most important part of your entire bathroom, whether it's big or small. Depending on your bathroom, you might have to get a little creative with the lighting to fit it into a smaller space.
That's why vanity lighting is so popular and so necessary. Add lights with bright, natural lighting to create the most harmonious feel for your bathroom.
Pendants are ultra-popular and ultra-efficient in lighting any space. Flank the side of your sink or your mirror for the most space-friendly and brightest option.
Open Showers
This trend is modern and unexpected, but also popular again for anyone who needs to save space.
Integrating your shower into the rest of your bathroom without a containing wall or door is a surefire way to make it feel like a spa. You'll have to tile every surface of your bathroom so that it's water-resistant and install a heavy-duty drain. After that's done, your shower is free of any constraints.
Open showers, fittingly, open up the space of your entire bathroom and makes it appear larger.
Feeling inspired? Make your dreams a reality. We can help. Continue getting inspired with our bathroom gallery, and choose the redesign you've always wanted. We can help you on your way with personal, customized advice for your specific situation.