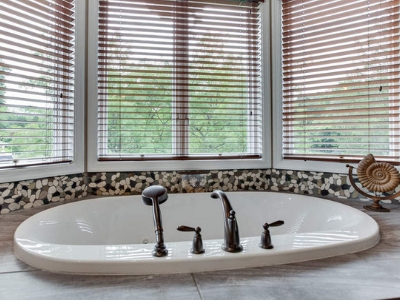 Your bathroom is called a bathroom. Sounds obvious, right? But how is the actual bath in your bathroom?
If your bath is neglected, you're not taking full advantage of all your bathroom has to offer. Having a bath can be a luxurious, de-stressing experience. But only if you're doing it right. Get that brand new bathtub you've been dreaming of and take that long relaxing bubble bath.
You've got a lot of options. Sort through all of them to find out which one works for you.
Corner Tub
If your bathroom is pressed for space, a corner tub could be your best bet to incorporating a bathing area into the room. The tub can be tucked away into two wall or three walls, which means accessibility is something you're going to have to consider. They're highly functional and can be made to accommodate the shape and size of any bathroom in a rectangle, square, or triangle.
Hot Tub
Yes, you really can get a hot tub bath in your bathroom. You can get them installed with air jets for the ultimate spa experience, and are also recommended if you need hydrotherapy. Obviously, these tubs are going to come at a higher price point, but they can also be fitted into a smaller bathroom than you may expect, so don't sell yourself short if this sounds like the dream bath you're thinking of.
Freestanding Tub
These tubs are a modern centerpiece that adds a striking addition to any bathroom. The contemporary tub allows for a high level of relaxation with a number of versatile looks and high walls. These tubs are heavy, however, and the stability of the floor they're on needs to be checked before installation. Elegant and modern hardware can be incorporated into their design, but there is little to no storage space for shampoo or soap near the tub.
Claw-Foot Tub
A claw-foot tub is also a freestanding tub, but much more ornate than the regular freestanding tub. These types of tub make a statement in any bathroom and show people your bathroom means serious business. It adds a vintage look to any area with its intricate details and unique. When you get one of these tubs, you're in for an easy installation process. The high walls of the fixture allow you to sink in, breathe deep, and enjoy your new beautiful tub.
Platform Tubs
These tubs are framed by another type of material. That means you can add a unique touch to your tub by choosing to decorate it with tile, granite, marble, or whatever material matches your design or the rest of your decor. It's more difficult to get in and out of this tub than others because of the platform around it, but it makes for a high luxury design.
Walk-In Tub
Yes, this tub is literally one that you walk into. These tubs are used for people who have a harder time getting in and out of the tub but don't want to sacrifice their baths. They help maintain their independence by allowing easy access to the bathing area and can be installed in virtually any bathroom.
Got bathtub envy after reading about all the kinds of options you have for bathing? Reico Kitchen & Bath have got your back. Literally, because you can relax out that aching back of yours by finally getting the bathtub you need. Contact us to get a professional consultant to tell you what type of bath would be best for you, your budget, and your dream design.