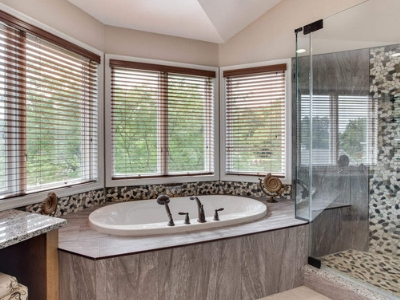 When the leaves start to shake off the trees and the weather starts to cool down, you know it's time for the fall season to start. Especially when everything everywhere you go is pumpkin flavored. You'll want to spend more time in your house, cozy and relaxing. But that won't work if your house isn't, in fact, cozy and relaxing.
You deserve every corner of your home to make you feel as good as possible. And that can't happen your bathroom isn't looking its best. Maybe it's lacking space. Maybe there's not enough color. Maybe you need to keep up on the trends. Here's some that you'll fall in love with. See what we did there?
Monochromatic
It's possible that your bathroom is monochromatic right now just because it's all beige and white from you never decorating it. Luckily for you, monochromatic bathrooms are in style. But maybe you should do just a little work.
To get a coherent monochromatic look, choose one color shade and stick to it. White is indeed a popular choice for monochromatic bathrooms. If you're going with white, spruce up your walls with a fresh new coat of paint, then choose variations of white throughout for your sink, mirrors, shelves, and cabinets. You may want to consider retiling your bathroom floor to give it a breath of fresh new life, especially if your once white tiles have started to dull over the years.
Bamboo
More and more bathrooms are starting to feature bamboo wood. It makes for a simultaneously cozy and modern vibe in your area. And bamboo is a highly renewable material, so will make any environmentalist happy.
Incorporate bamboo into your bathroom in a variety of ways. You can get bamboo bathroom cabinets for a sturdy and beautiful new look. Bamboo flooring also creates a welcoming atmosphere that's perfect for both the fall and seasons beyond. You can even get bamboo paneling for your shower.
Practicality
Even if you have a bathroom that's on the smaller side, it's important that it's practical. Use space that you might not have thought of before. You can get hooks that hang over your door to hold towels. Look at corners for adding storage, and areas above and below eye level that could help store items. New cabinets with roll-out storage are also miraculous for adding space to your place.
And if you're fed up with having a bathroom that's not practical, that no amount of clever cabinetry can solve, you can consult an expert to do a whole bathroom remodel for you and get you that space to move.
High-Tech
You can really take your bathroom to the next level with all the high-tech gadgets that are appearing on the market. For one thing, you can get a rain shower. Yep, those are the showers without the showerheads where the water falls down right from the ceiling. And they definitely make you feel like you're living in luxury.
There are also new digital temperature settings you can install into your shower area, so it's the perfect temperature every time. Digital lighting also allows for you to control the atmosphere more easily, and when you get digital lights you can ramp up your choices, from dim to bright to colored to patterned.
Metal-working
Metallic accents are popping up in well-designed bathrooms lately. They add a rustic feel, as well as lending a strong accent to the area. You can work metallic accents into your bathroom by choosing accent pieces, or you can go bold with a new appliance like a metal or bronze sink or bathtub.
Metal frames for the shower are also a popular choice that adds intrigue to any bathroom. Stone basin sinks are also trending right now. They give any area an unexpected and organic touch.
Reico Kitchen & Bath are the people you need to call. Not only do we live and breathe kitchen and bathroom design, so we're always up on the trends, we know exactly how to get you that bathroom that you want. It's the season to get the bathroom you've been dreaming about.